Women redefining contemporary art museums and organizations
Sat Mar 20 2021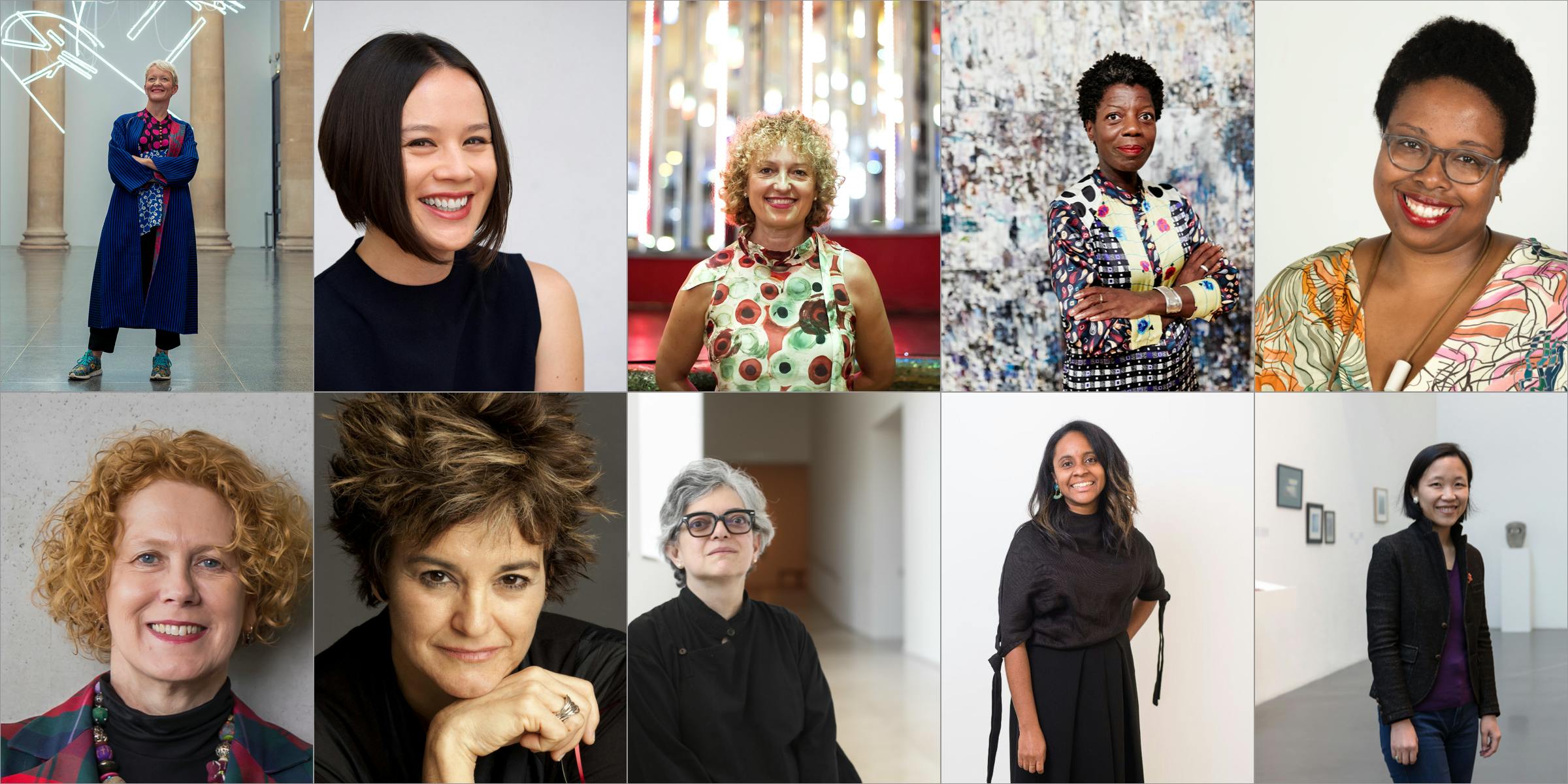 Whether they're artists, curators, collectors, museum directors, art patrons, gallery owners, or art dealers, women are making their voices heard in a once male dominated art world. While there are still hurdles to overcome in terms of representation, equal pay, and recognition; nowadays many women are highly influential in the world of contemporary art. Who are some of the women shaping contemporary art museums and art organizations around the globe?

It needs to be said loud and clear: countless women could fill this list, but it's impossible to include them all. Our list intends to show only a handful of the many women that are redefining the present and future of the institutional side of contemporary art as Directors or Chief Curators of museums, or as the leading voices behind art organizations or foundations on an international scale. The list is organized alphabetically and will be enriched in future posts.
Maria Balshaw (b. 1970, Birmingham, United Kingdom)
Maria Balshaw is Director of Tate Galleries, a role she's held since June 2017. She is in charge of Tate's strategic direction and day-to-day operations, and she is also the Accounting Officer appointed by the Department for Digital, Culture, Media, and Sport (DCMS). Previously, as Director of the Whitworth, University of Manchester, and Manchester City Galleries, Maria oversaw the artistic and strategic vision for each gallery. As Director of Culture for Manchester City Council from 2013-2017, Maria also played a leading role in establishing the city as a major cultural center. Maria is a Board Member of The Clore Leadership Programme and Manchester International Festival. She was awarded a CBE in the Queen's Birthday Honours for services to the arts in June 2015. She was listed in Art Review´s most influential people in the contemporary arts in 2020 (next to Frances Morris, Director of Tate Modern).
Zoe Butt (b. Australia; based in Ho Chi Minh City, Vietnam)
In 2016, Butt took up the role of artistic director of the Factory Contemporary Arts Centre in Ho Chi Minh City (the first purpose-built space for contemporary art in Vietnam) and has been building a network of associated institutions, artists, and curators, with the intention of promoting dialogue among countries across South East Asia. She also manages an exhibition program promoting local artists and the wider Vietnamese diaspora. Likewise, she has created many international programs and initiatives for South Asian curators and artists. She was listed in Art Review´s most influential people in the contemporary arts in 2020.
Carolyn Christov-Bakargiev (b. 1957, New Jersey, USA; based in Italy)
A curator, researcher and scholar, Carolyn is the Director of Castello di Rivoli Museo d'Arte Contemporanea and Fondazione Francesco Federico Cerruti in Turin. Under that role she was responsible for organizing the first public reveal of the exhibition amassed by entrepreneur Francesco Federico Cerruti from the late 1960s to 2014. She is also the recipient of the prestigious 2019 Audrey Irmas Award for Curatorial Excellence. Among her many accomplishments, Carolyn was behind the raved-about 2012 Documenta 13, which she chose to hold in Kabul, Alexandria, and Banff, as well as in Kassel. Under her leadership, documenta 13 was considered one of the most significant exhibitions in the art world, enlisting art and culture with the intention of reconstruction, healing, and dialogue. She has been the Senior Curator at P.S. 1 in New York. She is the first woman to have reached #1 on Art Review's "Power 100" list.
Thelma Golden (b. 1965, Queens, New York, USA)
Thelma Golden is the Director and Chief Curator at the Studio Museum in Harlem, New York. In 1988, she became the first black curator at the Whitney Museum of American Art. Golden is known for championing artists in the beginning stages of their careers, and her exhibitions focus mainly on emerging African American artists. Together with friend and artist Glenn Ligon, Golden coined the controversial term "post-black art", referring to a group of post-civil rights African American artists whose work, according to them, could not only be defined by their "race" and who felt free to leave behind the label of "black artist". Today, Golden continues to strengthen the global position of African American artists within the art world, while keeping strong ties to the local community. She was listed in <a target="_blank" href=https://artreview.com/power-100?year=2020&artist=Thelma%20Golden">Art Review´s most influential people in the contemporary arts in 2020.
Jamillah James (b. New Jersey, USA; based in LA)
She is the Curator of the Institute of Contemporary Art in downtown Los Angeles, and co-curator of the 2021 edition of the New Museum Triennial. As stated on her website, prior to joining ICA LA in 2016, James was Assistant Curator at the Hammer Museum, Los Angeles, organizing exhibitions at the museum and Art + Practice, an arts and social services nonprofit in Leimert Park, LA. She has held curatorial positions at the Studio Museum in Harlem and Queens Museum, New York, in addition to producing exhibitions and programs at various alternative and artist-run spaces throughout the US and Canada since 2004.
Elizabeth Ann Macgregor (b. 1958, Dundee, United Kingdom; based in Sydney, Australia)
Since 1999 Macgregor has been the Director of the Museum of Contemporary Art Australia. When first being appointed she renegotiated a sponsorship to ensure free admissions to the museum. According to Art Review, where she was listed as one of the most influential people in the arts in 2020, that move, along with Macgregor's innovative and savvy programming of exhibitions and public events, made MCA the most visited contemporary art museum in the world in 2019. Even amidst lockdown, the museum hosted the 2020 Brook Andrew-curated Biennale of Sydney and a major retrospective of Chinese-Australian artist Lindy Lee (October 2020-February, 2021), which Macgregor hoped would attract domestic tourism.
Mari Carmen Ramírez (b. Puerto Rico; based in Houston, USA)
Mari Carmen Ramírez is the Wortham Curator of Latin American Art at the Museum of Fine Arts, Houston. Previously, she was curator of Latin American art at the Jack S. Blanton Museum of Art at the University of Texas at Austin (1989–2000) and Director of the Museum of Anthropology at the University of Puerto Rico (1985–88). Ramírez has curated many exhibitions of Latin American art including Carlos Cruz-Diez: Color in Space and Time (2011); Joaquín Torres-García: Constructing Abstraction with Wood (2009-10); North Looks South: Building the Latin American Collection (2009); and Dimensions of Constructive Art. In 2005 she was listed by the Time magazine in the "25 Most influential Hispanics in America".
Gabriela Rangel (b. 1963, Caracas, Venezuela; based in Buenos Aires, Argentina)
Gabriela is the Artistic Director of the Museo de Arte Latinoamericano de Buenos Aires (MALBA), and she is the first woman to have that charge. From 2004–2019 Rangel was Visual Arts Director and Chief Curator at The Americas Society in New York. Previously, she worked at the Fundación Cinemateca Nacional and the Museo Alejandro Otero in Caracas, and the Museum of Fine Arts in Houston. She has curated and co-curated numerous exhibitions on modern and contemporary art that includes Marta Minujín, Carlos Cruz-Diez, Gordon Matta-Clark, Arturo Herrera, Paula Trope, and Alejandro Xul Solar.
Zoé Whitley (b. 1979, Washington DC, USA; based in London, United Kingdom)
Whitley was recently named as Director of London's Chisenhale Gallery, an alternate space very popular on the international circuit. Previously, she was Senior Curator at the Hayward Gallery, also in London. She has held curatorial positions at the Victoria and Albert Museum and the Tate galleries. At the Tate galleries, Zoé co-curated the 2017 exhibition Soul of a Nation: Art in the Age of Black Power. Soon after, in 2018, she was chosen to organize the British pavilion for the 58th Venice Biennale. In 2019, she was voted as one of the Most Influential Curators of the Decade on a survey Artnet News conducted.
Carol Yinghua Lu (b. 1977, Chaozhou, China, based in Beijing)
Lu is an art critic and curator. She is currently a Ph.D. scholar of art history at the University of Melbourne and is director of the Beijing Inside-Out Art Museum. She is a contributing editor at Frieze. Lu was on the jury for the Golden Lion Award at the 2011 Venice Biennale and on the jury for the Filipino National Pavilion of 2018 Venice Biennale of Architecture. She was the co-artistic director of the 2012 Gwangju Biennale and co-curator of the 7th Shenzhen Sculpture Biennale in 2012. From 2012 to 2015, she was the artistic director and chief curator of OCAT Shenzhen. She was the first visiting fellow in the Asia-Pacific Fellowship program at the Tate Research Centre in 2013, and a researcher on the exhibition history in China for the Asian Cultural Complex in Gwangju in 2015. She is one of the first four ARIAH (Association of Research Institute in Art History) East Asia Fellows 2017 at Bard Graduate Center.
Stay tuned as we will continue to uncover more of the many women that are leaving a mark on the contemporary art world.