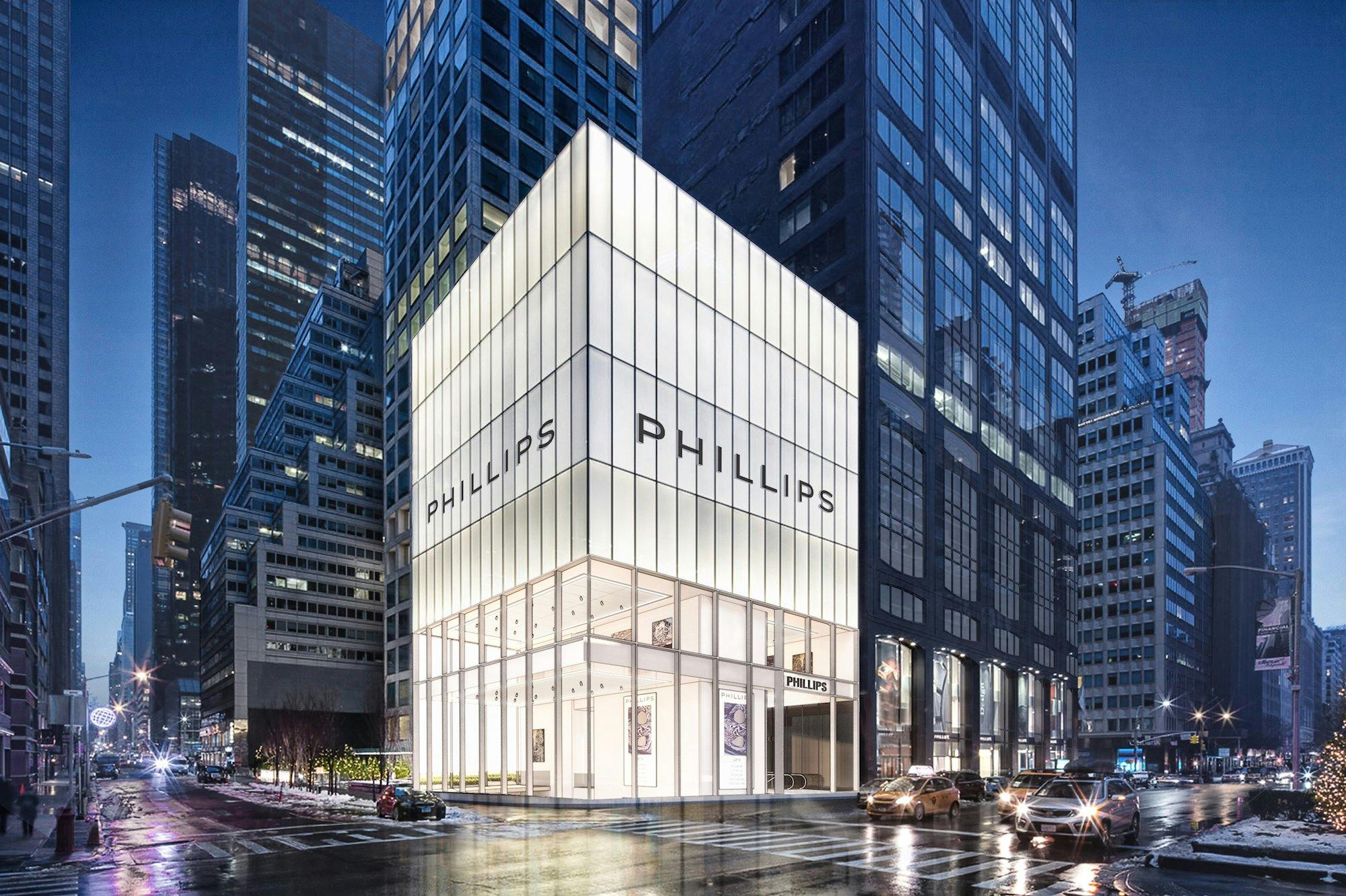 This series continues to explore the past, present, and future of the world´s top auction houses. After speaking about Sotheby's, Christie's, and Bonhams, we now turn our attention to Phillips, an auction house that dates back to the late 18th century and, nowadays, sells art, furniture, jewelry, watches, photographs, and editions across its salerooms in New York, London, Hong Kong, and Geneva. What are the main events that have shaped Phillips? And, how has this auction house redefined itself?
The history of Phillips can be traced back to 1796 when Harry Phillips, former senior clerk to James Christie, founded the auction house in Westminster, London. During his first year of business, Phillips conducted 12 successful auctions and soon was holding sales for some of the most distinguished collectors of the day including paintings from the state of Marie Antoinette, Beau Brummel, and household items belonging to Napoleon Bonaparte. This made Phillips highly popular among the aristocracy and was one of the most popular options for handling their states, especially for auctioning off the contents of country estates. To this date, Phillips remains the only auction house to have ever held a sale inside Buckingham Palace.
As was seen amongst his fellow competitors at Sotheby's and Christie's, Harry Phillips mixed his business skills with his charming personality creating entertaining and elegant evening receptions before each sale, a feature commonly seen in the pre-pandemic auction world. When Harry died in 1840, his son, William Augustus, continued with the family business and brought in different partners. For instance, in 1879, William changed the firm's name to Messrs Phillips & Son, and then, in 1882, after the incorporation of Frederick Neale, William´s son-in-law, the company was renamed Phillips, Son & Neale.
The ownership of the company passed to Harry Phillip´s successors through the 1800s and early 1900s. During the first decades of the 20th century, the commodities auctioned at Phillips were of a great variety, ranging from houses to paintings, from lacework to wine, and from furniture to building materials with the company having a reputation for strong regional salerooms dotted throughout the British Isles, reported Artnet. Control of the auction house passed out of the hands of the Phillips family in the 1930s when Edwin and Robert Hawkins took over the company. An event that marked the company's history during the 1930s was a devastating fire that, in 1939, destroyed its long-time headquarters and forced the auction house to relocate across the street.
Phillips during the 2000s: major shake-ups and redefining moments
Moving ahead in time, during the last years of the 20th century and the first decades of the 21st, Phillips saw changes to its owners, its structure, and its business strategy. For example, in 1999, Bernard Arnault, head of LVMH Moët Hennessy Louis Vuitton and mega-collector, purchased the company and merged it with private art dealers Simon de Pury and Daniela Luxembourg. The new team worked under the name of Phillips de Pury & Luxembourg and held sales of Impressionist, American, and Modern Art in addition to watches, jewelry and furniture. Arnault first tried to buy Sotheby's, but when that failed he looked at Phillips and tried to build up its reputation amongst the auction houses around the world. He saw an opportunity, when in 2000, Christie's and Sotheby's were the subjects of a New York grand jury investigation, which led to a major scandal that shook the core of both auction houses. Arnault´s strategy was to make lavish guarantees of a minimum sale price to lure major works of art, and to spend large amounts to woo senior specialists from Sotheby's and Christie's, explained The Art Newspaper. Instead of acting as a middleman between buyers and sellers, Phillips was taking on inventory. For example, in 2001, Phillips bought a prized collection of 19th-century paintings and drawings from Heinz Berggruen, the Berlin-based dealer, including five works by Cézanne and a Van Gogh, detailed The New York Times. In the long run, this strategy was not successful and Phillips ended up losing millions of dollars resulting in Arnault deciding to sell the majority of his stake to Pury and Luxembourg, in 2002.
In 2003, Phillips headquarters were moved to the Meatpacking District in Chelsea, New York, which at the time was just beginning to sprout as an international art district. The new direction focused solely on sales of Contemporary Art, Design, jewelry, photography, and editions. Another big change occurred when, in October 2008, Mercury Group acquired a majority stake that enabled the auction house´s further expansion. As detailed by Artnet News, Mercury Group is Russia's largest luxury retail company. Its holdings include the Tretyakov Projezd and Barvikha Luxury Village (high-end shopping center) and TSUM, its flagship department store, located next to Moscow's Bolshoi Theater.
Importantly, over the last couple of years, Phillips has carved out a niche for itself by organizing sales of cutting-edge contemporary art, photography, and design, in addition to conducting private sales. To get a glimpse of Phillips´ growing connection to contemporary art, between 2007 and 2008 sales of contemporary art rose 80 percent. Additionally, during those years, the company has also organized selling exhibitions of works by artists like Julian Schnabel and Mario Testino and represents the estate of Helmut Newton. It also gained exclusive representation of photographer Annie Leibovitz.
Particularly, after the hiring of Edward Dolman as its CEO in July 2014, after a 27-year career at Christie's, Phillips has continuously grown its presence in the Asian market. Phillips held its first auction in Hong Kong in 2015, and currently presents all categories including art, design, jewels, and watches in the fast-growing Asian market. Outside of Hong Kong, Phillips has staff and galleries across Jakarta, Seoul, Shanghai, Singapore, Taipei, and Tokyo. As an example of this fast-paced growth, in 2019 Phillips saw a 77 percent increase in buying activity from Mainland China, as well as a 49 percent increase in Hong Kong, and a 41percent increase in Japan. Likewise, the auction house reported that in 2020 it achieved the highest season total in Phillips' five-year history in Asia, a 44% increase over 2019. Last year Phillips also started an unprecedented collaboration with Poly, China's largest state-owned auction house, to jointly conduct sales of 20th century and contemporary art in Hong Kong, reported Artnet News.
Besides, recently Phillips has also rekindled its watch division and relaunched its Jewels category. At the same time, in 2017, Phillips opened their private sales division allowing Phillips to connect with clients all over the world without being limited by the auction calendar. Under the direction of Miety Heiden, Phillips X, organizes selling shows in New York, London, Hong Kong, Paris, Taipei, and Shanghai. For example, in 2019, Phillips put together, in New York, the selling exhibition American African American, curated by Arnold Lehman, Senior Advisor to the CEO and Director Emeritus of the Brooklyn Museum; and also orchestrated, in Taipei, the show Bansky: the Authentic Rebel attracting over 12,000 visitors in a single week. This approach has translated into sales, since, for instance, in 2019, sales through private channels accounted for 19 percent of its total sales achieving a total $172 million, reported Artsy.
Dolman´s strategy has proven positive for the auction house. Especially in 2018, when it achieved its greatest milestone of selling more than $916 million worth of art and collectibles: "Our strategy of focusing exclusively on the 20th and 21st centuries, our continued expansion in Asia, and our move to increase our modern art offerings have all played a role," Dolman declared in a statement published by Artnet News. The CEO also credited the recruitment of key staff members as the instrumental to its success. In 2019, this path continued with the auction house generating more than $908 million in sales. According to <a target="_blank href="https://artdaily.com/news/120667/Phillips--overall-sales-total--908-million-in-2019#.X_3hk-n0mDU">Art Daily, auction sales realized $736 million, with private sales ending the year with $171.8 million. In 2019, photographs performed exceptionally well, with Helmut Newton's Sie Kommen, Paris (Dressed and Naked) selling for $1.8 million, the highest price achieved for a photograph at auction. Additionally, in 2019, Phillips managed to secure the sale, held in New York, Hong Kong, and London, of the reputed Miles & Shirley Fiterman Collection including significant works by Roy Lichtenstein and Andy Warhol as well as pieces by 20th-century masters like Alexander Calder and Robert Motherwell.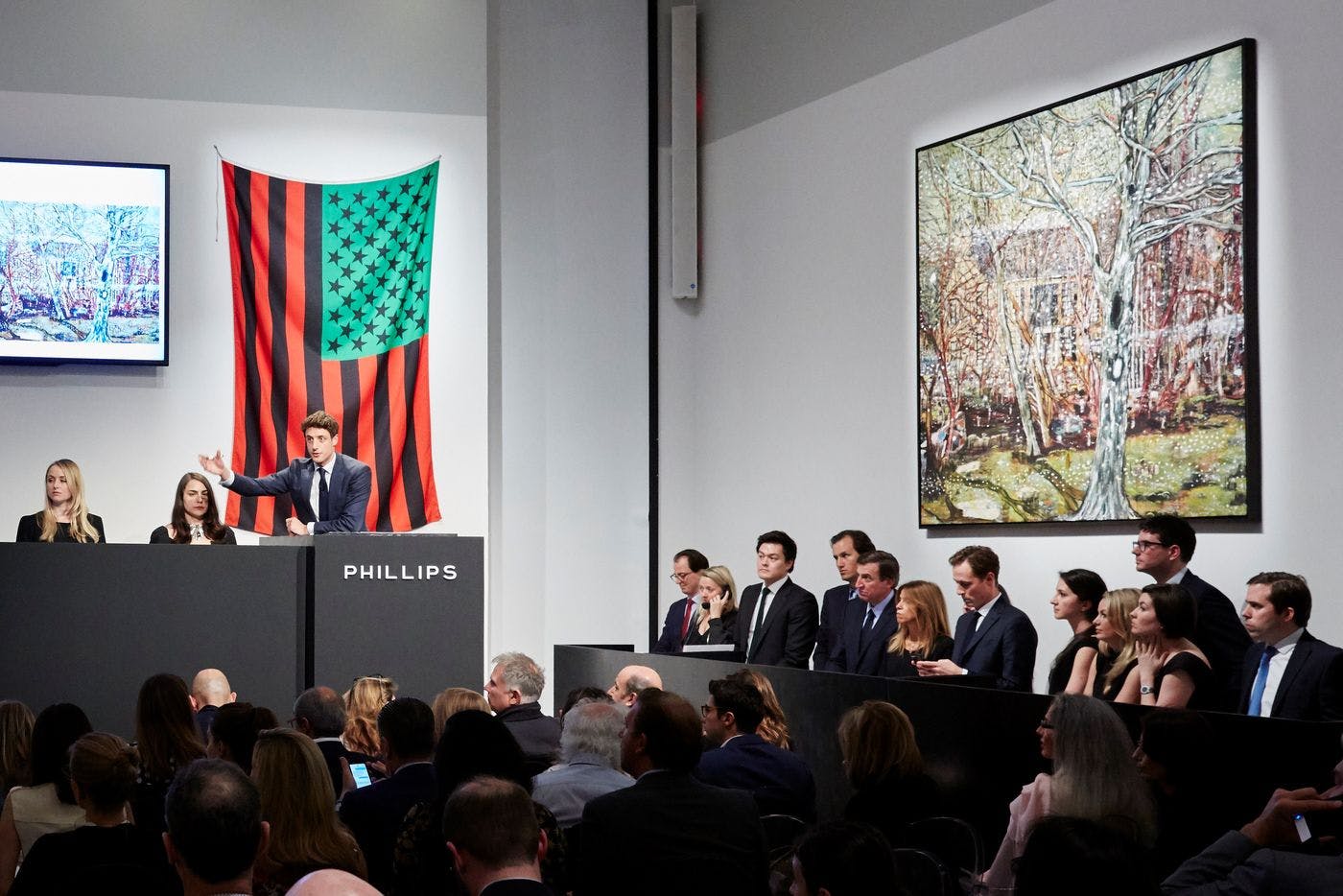 The digital strategy: new formats for sales and data-driven engines
Since before the pandemic, Phillips has been focused on enhancing its digital resources and building new partnerships with tech companies. As proof of this, digital engagement was a top priority for Phillips in 2019, with a focus that led to $75 million in online sales, an increase of 50% from the previous year. In that same year, Phillips hosted seven independent online-only sales and normally hosts two sales a year with Artsy, detailed Art Daily.
As was the case with the rest of the art world, the pandemic caused the auction house to focus its attention towards digital sales channels. As reported by Phillips, the auction house saw a 134% increase in online sales across 2020, and set a new company record for an online bid — at CHF 4,991,000 for an extremely rare Patek Philippe Ref. 2523/1 — in their Geneva Watch Auction. Likewise, David Hockney's Los Angeles landscape Nichols Canyon (1980) fetched US$41 million at a Phillips 20th century and contemporary art sale in December, which also achieved records for several emerging artists. On the other hand, Phillips was the first auction house to break from the traditional calendar by introducing Gallery One, a weekly online auction series with new drops each Thursday at noon EST.
In August 2020, Phillips announced an interesting partnership with technology firm Articker, a data-driven research company with insights into market trends and advanced intelligence on artists and artworks. Founded in 2014, this tool tracks the global art publishing world, with a database of more than 16,000 online publications from over 50,000 editorial sources, including galleries, museums, and art fairs. The new platform provides Phillips and its clients with unprecedented visibility on emerging trends in the art world based on open-source information about artists and their works. "We have more content on art than Google, which doesn't have the focus that we have," said Tomasz Imieliński, one of the founders, to The Art Newspaper. A limited part of the product is now available on Phillips's website, in the form of a daily bulletin which provides highlights and details of media coverage for certain artists.
During 2021, we will continue to see Phillips further its expansion into the Asian Market through private exhibitions, collaborations and new sales, and will probably start to see how its partnership with the data gathering engines like Articker reflect its presence with clients around the world.