Three rising stars that are reinventing painting: Figgis, Martinez, and Kaphar
Thu Sep 24 2020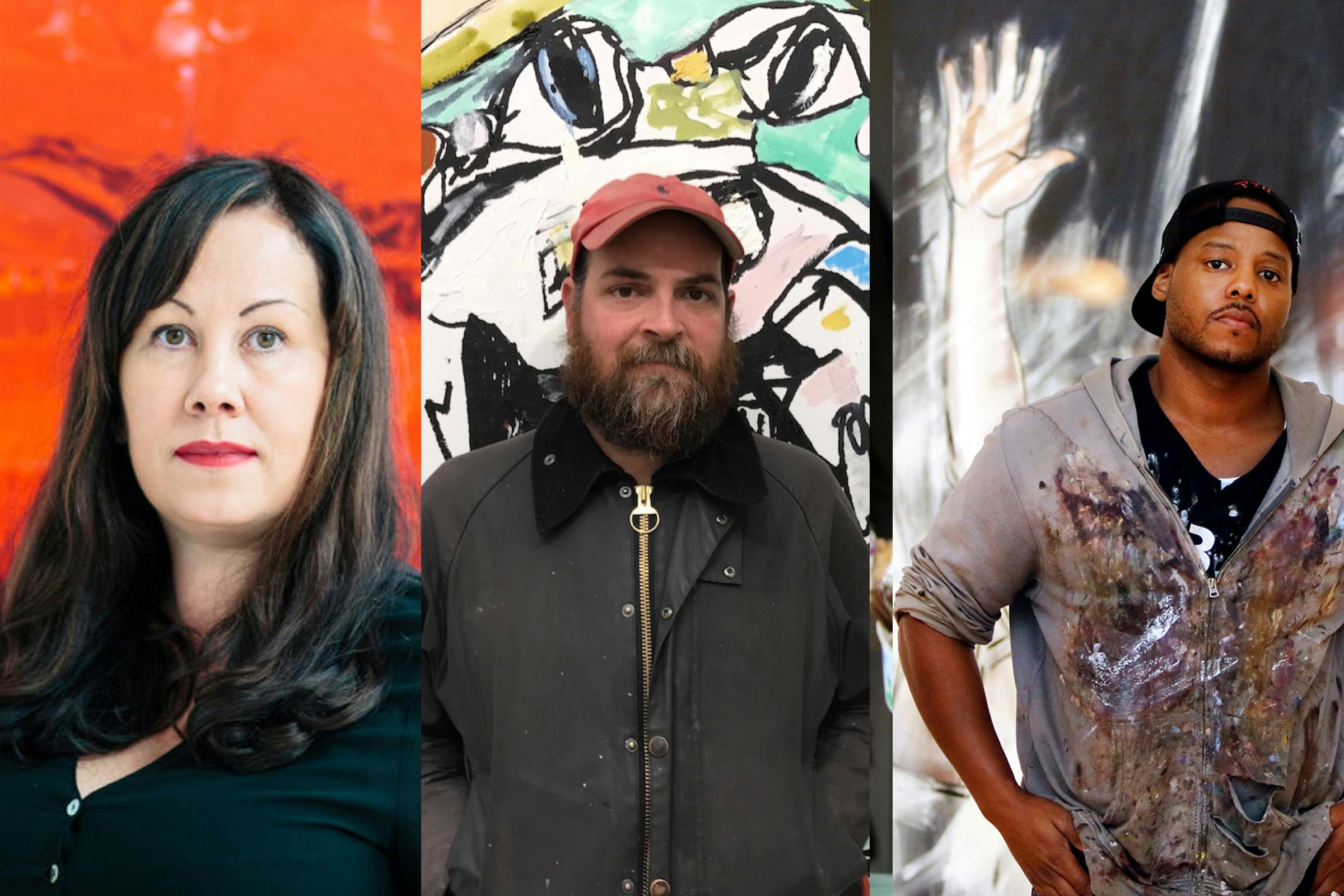 Contemporary artists have always been known for new takes on traditional mediums and interpretations of art. As they work to develop and diversify their distinct artistic language, they also dive into different subject matters and techniques. Some artists choose to address the current social and political climates, while others refrain. And due to the great number of online platforms available, artists can easily display their most readily available artworks shortly after they're produced. Their work is weaved into current culture and can be seen almost immediately. As described by Roddy Clarke from Forbes, on occasion, this immediacy has contributed to their rise to fame and the creation of future partnerships before the artists are signed to reputable galleries or seen in museums.
This post will cover the emergence of three rising stars who explore painting by reinterpreting its past, blurring its boundaries, and opening new material and conceptual possibilities to this centuries-long tradition. While their work revolves mainly around painting, these Gen Xers have also experimented with animation, installation, sculpture and drawing. And although they all hold their own out-of-the-box exploration of art, they all remain in very different stages of their careers. Genieve Figgis is an emerging Irish artist who recently started showing with leading institutions and galleries, but Eddie Martinez and Titus Kaphar are newly-established artists (a term used by Artsy to describe artists making noise at major art events, and gaining representation with influential galleries).
Genieve Figgis
(b. 1972, Dublin, Ireland. Lives and works in County Wicklow, Ireland.)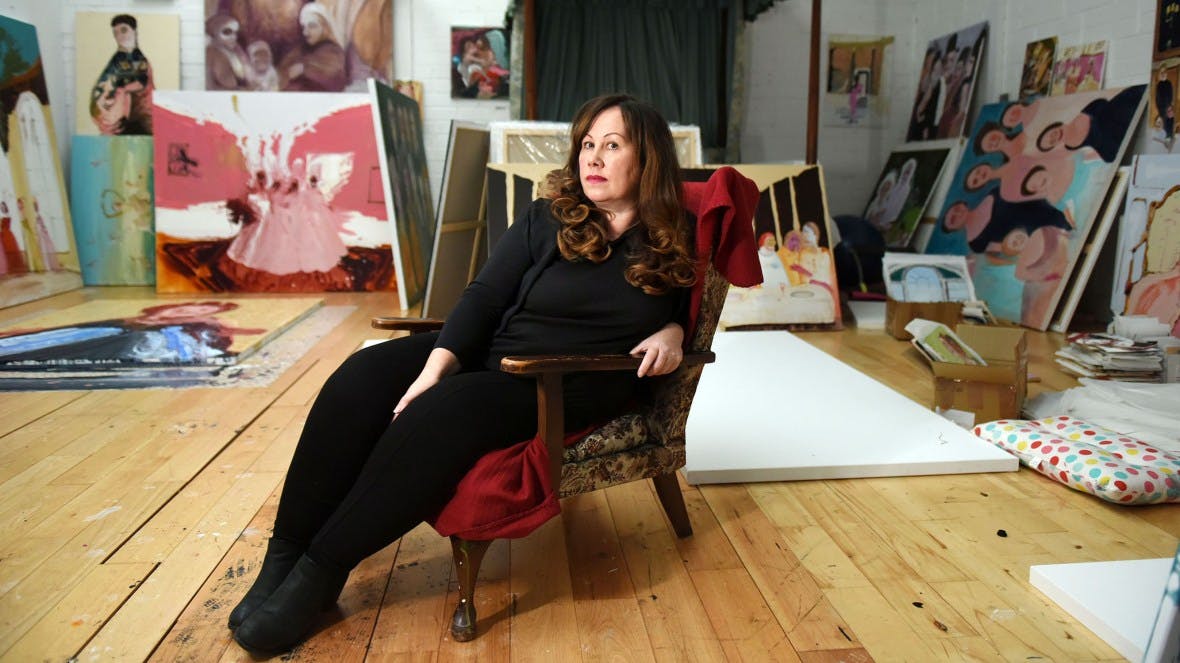 Genieve Figgis' colorful paintings display distorted characters with pained or emotive expressions constructed with brief yet fluid brushstrokes that are usually set in lavish high-society homes or dreamy and idyllic landscapes. Figgis' compositions are a fresh flash-back to European painting traditions. Her figurative paintings are created mainly by dribbling acrylic paint onto the canvas: experimenting with the interactions of fluids and, later, adding textures and details. She works at a fast yet steady pace, creating an extensive series of paintings around one topic.
Figgis finds inspiration in Irish and English literature, reinventing the works of 18th and 19th century European painters. Gallerist, Almine Rech, recalls in an interview with Figgis that her greatest influences are Fragonard, Manet and even Goya, which she uses as a guide for transforming culturally-charged references with her sense of irony and dark humor. Additionally, Ocula explains, in a 2019 exhibition titled Floating World (Almine Rech, Shanghai), that she also references the urban pleasure-seeking culture of Japan's Edo period (1603–1867) as another source of inspiration.
Figgis' rise to fame is a testament to the catalyzing power that social media has had on the careers of artists. In 2014, while circulating on Twitter, her paintings caught the eye of famous American artist, Richard Prince, who bought one of her pieces and catapulted Figgis into the New York art scene. From that point on she was signed by the international gallery Almine Rech and her work is now shown in London, New York, Paris, Shanghai, and Brussels.
Erin Lindsay from Image, explained that Figgis' career blew up after fashion designer Marc Jacobs acquired one of her paintings and then credited Figgis' work as the inspiration for the color palette used in Marc Jacobs' SS19 collection. Figgis herself is no stranger to fashion, as she worked in the jewelry sector before transitioning into painting mid-career. Some of her paintings, featured in Harper's Bazaar, include her distinct characters decorated with styles similar to Moschino, Marc Jacobs and Dolce & Gabbana. In 2016, Figgis also experimented with animation when her characters were brought to life with music from the third of Donizetti's three Tudor queen operas, as part of Gallery Met Short.
Eddie Martinez
(b. 1977, Groton Naval Base, Groton, Connecticut, USA. Lives and works in Brooklyn, New York, USA.)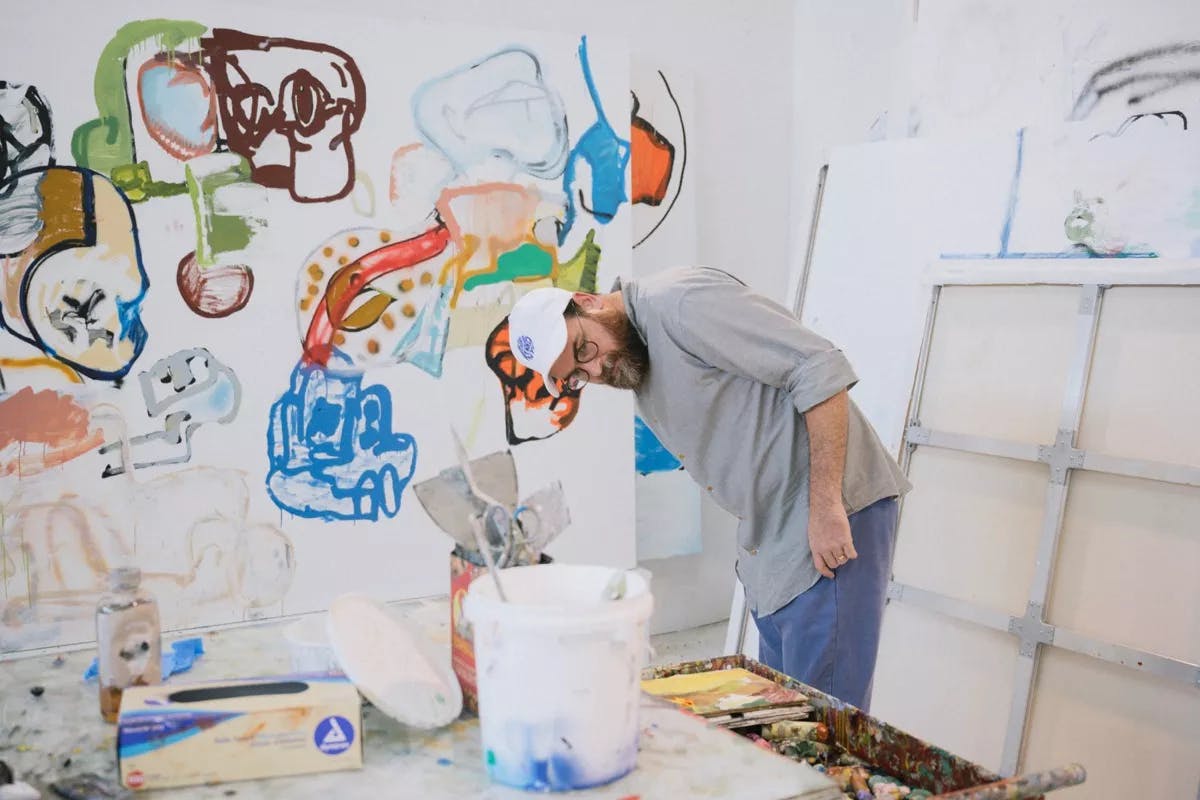 Eddie Martinez's works alternate between traditional and unconventional modes of abstract and figurative painting and drawing. His work plays with an array of materials such as oil and enamel, paint and silkscreen, spray paint and even elements of collage. The artist usually explores a symbolic motif meaningful to him and creates a series around it with striking colors and textures that are guided by a decisive use of the line. Ann Binlot from Forbes reported, in his first museum show at The Davis Museum (Wellesley College, 2017), Martinez reinterpreted a series of mandalas with his distinctive style that also spoke to the concept of transcendence. Martinez also experiments with sculpture using mainly found objects such as rubber hoses, cardboard and metal scraps.
His gestural paintings have been compared to artists such as Jean-Michel Basquiat, Philip Guston and Willem de Kooning. Martinez is unique though, because he cannot be constricted to one medium or particular style; he constantly seeks renewal -- pushing his practice in new directions.
Artsy describes that while his work has been featured in diverse exhibitions over the last decade, it's the last three years that have launched him into stardom. He has shown his work at the Museum of Contemporary Art, Detroit, the Yuz Museum, Shanghai, the Bronx Museum of Arts, and the Drawing Center. And more recently, his online exhibition, Homework, comprised of a series of works on cardboard produced during lockdown, organized by Mitchell-Innes & Nash, completely sold out (with prices ranging up to $150,000).
Martinez's work has landed in the auction world at least 46 times during 2020, outpacing auction house estimates and garnering the attention of European and Asian collectors alike. In November 2019 his work hit a record auction price at Christie's in Hong Kong, with the painting High Flying Bird (2014), which had a presale estimate of $153,000–$230,000, but was sold for $2 million, according to Artsy. But as we'll divulge in a future post related to art flipping, this outstanding price will not necessarily reflect the artist's primary market prices and the artist does not obtain any profit from this sort of sale. Luckily, Martinez has steadily established a collector base and his works are sold by three galleries - Perrotin, Timothy Taylor and Mitchell-Innes & Nash.
Titus Kaphar
(b. 1976, Kalamazoo, Michigan. Lives and works in New Haven, CT.)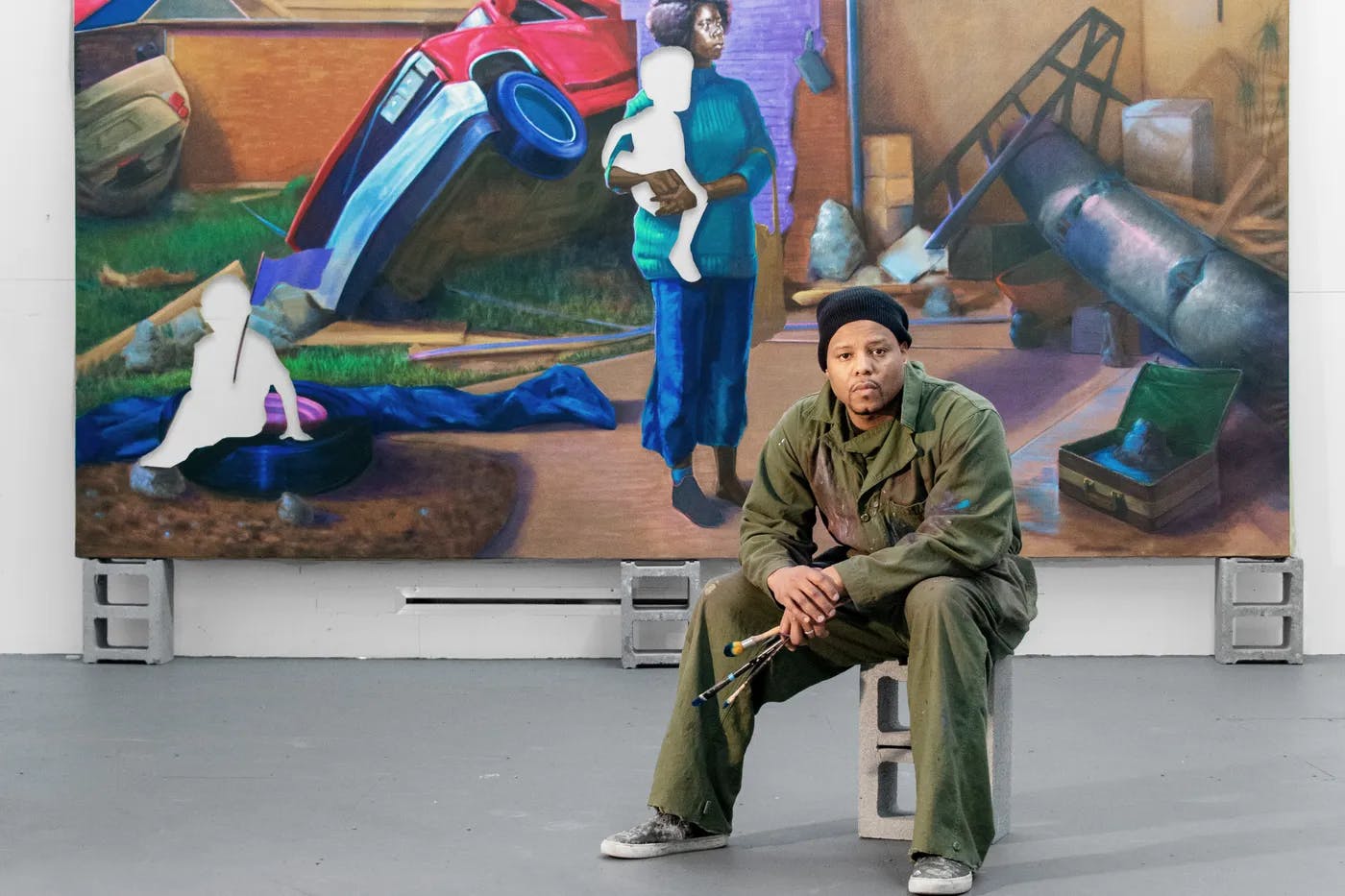 Titus Kaphar's work examines the cultural layers and bias embedded within the history of representation. Kaphar frequently transforms, cuts, tears and turns his paintings and sculptures with the intention of illuminating the disregarded culture and compositional hierarchies that highlight the history of racism, slavery and the forgotten. As mentioned by Patricia Leigh Brown from The New York Times, the artist uses materials like tar, wire, gold leaf and nails to uncover the past's inconvenient truths.
Kaphar appropriates and subverts iconic paintings by lathering on white brushstrokes or applying new elements to uncover the implications of the often-disregarded presence that black people have occupied throughout art history. Kaphar revealed at an interview that he plays with the concept of absence by cutting silhouettes from his paintings, a tool he uses to ruminate on the frequent disappearance of black children. Some of the artist's works are also deeply autobiographical, which include the creation of his well-known series, The Jerome Project, 2014-, inspired by the incarceration of his father. The artist created Byzantine-style portraits based on mug shots of US citizens who shared his father's name, and then proceeded to partially submerg each in tar based on the amount of time each citizen spent in prison or the implications of their imprisonment.
Kaphar is a man of many disciplines and qualities. He is a masterfully articulated speaker that has presented eloquent and intellectual TED talks that have moved his audiences, but he has also used his art to guide his audiences' gaze. Kaphar systematically added sections of white paint onto a recreation of Frans Hals' aristocratic portrait inorder to capture a servant girl embedded in the background of the portrait and focus on amending this visual representation of history. At the same time Kaphar, recently created NXTHVN, an arts incubator and residency program based in New Haven, Connecticut seeking to connect early-career artists and creative professionals with the resources and networks vital to their success.
As a newly-established artist, Kaphar has certainly carved out a name for himself. He has been awarded many prizes such as the 2018 MacArthur Fellowship, and his work has been displayed in several solo exhibitions at important museums such as MoMA, PS1 and the National Portrait Gallery in Washington, DC. Kaphar has also had a significant upgrade in his career with representation by Gagosian announced earlier this year.