The art fair system and the pandemic: What will be the new normal?
Sun Jun 07 2020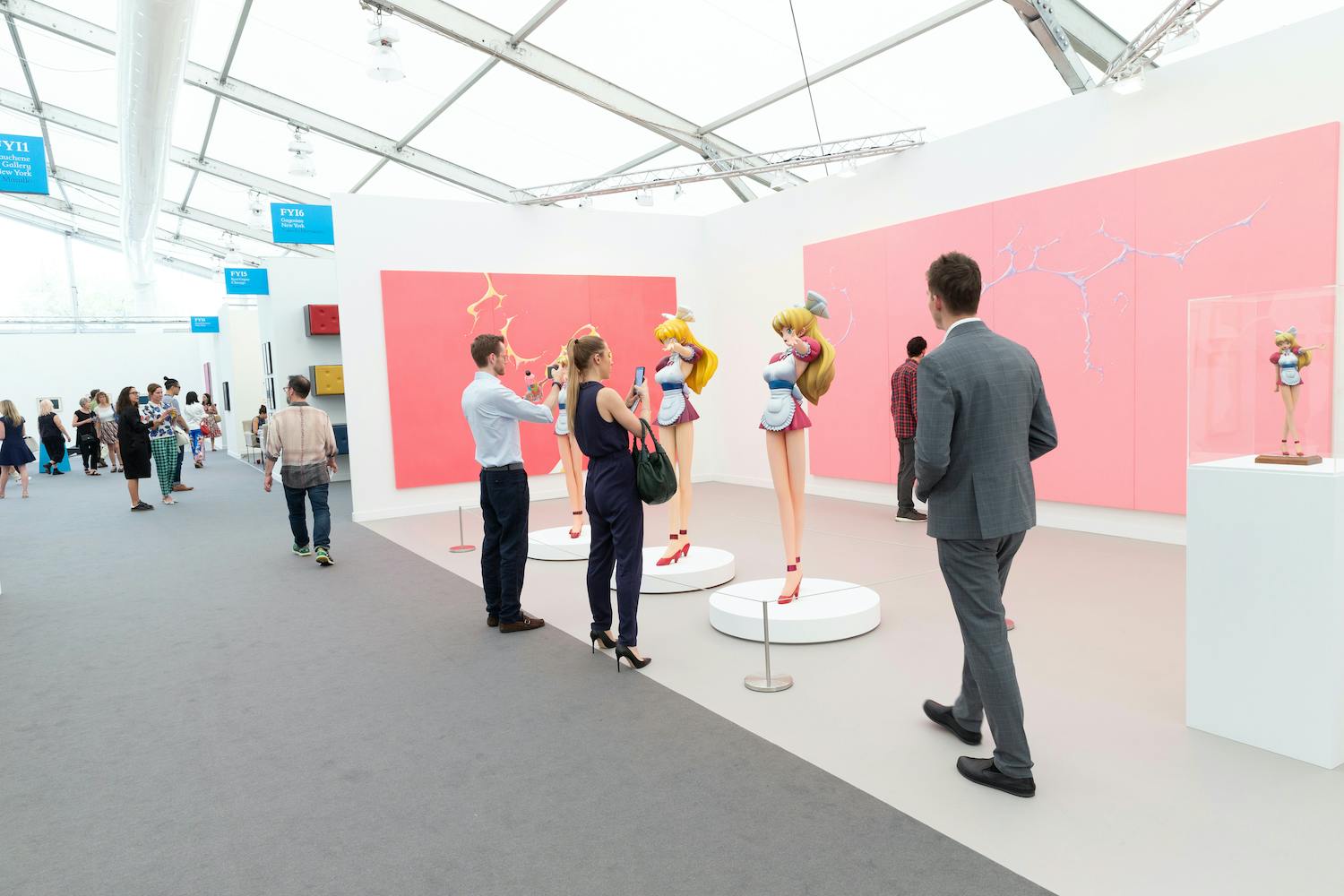 Art fairs are a magnetic force that attract an international and almost-nomadic tribe of curators, artists, art lovers, gallerists, and art collectors alike. Many of them have saved the dates for fairs around the world, whether they be in Miami, Basel, Hong Kong, Paris, Mexico City, Buenos Aires, or New York.

Aside from being the primary revenue source for galleries, art fairs are a vibrant place for industry leaders to network and engage with collectors looking to learn more about the community. In addition to curated spaces, art fairs provide programming for artist and collector talks, social gatherings, and industry presentations. Without a doubt, social interactions are an essential part of the global ecosystem for art fairs, which is why they are facing unprecedented challenges amid the global health crisis surrounding COVID-19.

But what now? How is the art fair system going to evolve to these changes? What is the future of the system? Moreover, how will it reinvent itself without the social component that makes it an event worth going to each year? To envision this future, we need to first understand the origins of art fairs and how they came to be. Only by having this context in mind, can we speculate on the short and long-term future of art fairs around the world.
The art fair system before the pandemic
The contemporary art fair system emerged as such in the second half of the 20th century. However, it's important to realize that the variety of art fairs did not occur until the early 2000s. The origins and semantics of the term "fair" are essential to understand the importance of these gatherings. The word "fair" comes from the Latin word, feriae, meaning holidays or holy days, and refers to being free of labor. Certainly, this term implies stepping away from our daily lives to enjoy a schedule packed with art exhibitions, social festivities, museum openings, and lots of VIP-only luncheons and private viewings. Most of all, art fairs are a sensory experience commonly associated with opulence, which is why so many luxury brands are primary sponsors, whether it be UBS's of Art Basel or Deutsche Bank's sponsorship of Frieze London.
It is interesting to note that art fairs were founded in countries like Germany and Switzerland, with the first being Art Cologne in 1967, followed by the creation of Art Basel in 1970. The first art fairs emerged as an option for the distribution of art in cities that lacked the galleries needed to support a large base of wealthy collectors. For example, Basel, Cologne, Ghent, Madrid, Brussels, and Bologna were the first to be impacted by this new way of collecting art. Following this first impulse, the number of art fairs incremented steadily during the 1990s, followed by a boom in the early 2000s-reaching an estimated 269 fairs in 2015.
As Christian Morgner affirms in his paper "The Evolution of the Art Fair" affirms, aside from being an experience that provides a halt to daily routines and a sense of belonging to the art community, one of the main features of art fairs is the networking opportunities they provide to the art community. As mentioned above, they bring together curators, artists, gallerists, art critics, and researchers worldwide. More often than not art exhibitions, business deals, joint ventures, and group shows come to life in the events surrounding the fair. Besides, the most important art fairs are also there to boost the local community and bring light to investments in culture. For example, Frieze partnered with Barbara Kruger and the city of Los Angeles to provide an art installation that covered the entire city in Kruger's famed quotes.
Within the art fair calendar, we can pinpoint mainstream art fairs such as Art Basel, Frieze, FIAC, Art Cologne, Zona Maco, ArteBA, and FOG. Besides these, there are also secondary art fairs or niche art fairs specializing in certain mediums, such as IFPDA and the London Original Print Fair. There are also satellite art fairs, such as Felix, Untitled, and SpringBreak, which are presented alongside main ones. While it is quite evident that there is an art fair tailored for each taste, contemporary art fairs are leading the charge when it comes to the global art community.
But, how many people frequent these events, and how profitable are they for the galleries that attend them? According to a documentary produced by Artsy and UBS, from 2011 to 2015, almost 8 million people attended art fairs around the world. In terms of profits, the revenues vary according to scale. For example, the Art Market 2020 report estimated that galleries with $10 million in annual sales tend to make 47% of their revenue from fairs, while galleries with less than $500,000 make about 30%.
This statistic helps us understand the importance of art fairs and why galleries are so adamant about attending them, even if they cost a lot to do so (averaging about $65,000 per booth). In this sense, being present at one of the most important art fairs can also work as a means to establish oneself as an elite gallery.
The art fair system during and after the pandemic
The well-oiled nomadic machinery of an art fair abruptly came to a halt with the unexpected arrival of the COVID-19 pandemic. As the global economy faced catastrophic outcomes, art fairs were speedily reacting to these uncertain times. For example, Art Basel Hong Kong was one of the first mainstream art fairs to cancel it's March event and move to a digital format where price ranges were exposed to users (usually an element not seen in art fairs). Frieze New York also canceled its event and decided to provide a free platform for artists and galleries to promote their work online. We have seen this approach be adopted by NADA, Untitled, and many other fairs.
With this being said, there is still a high level of uncertainty on when or even if art fairs will be able to resume their usual operations. As a clear example, Art Basel has recently announced its cancelation of the 2020 fair, with hopes of reopening June 17, 2021.
These examples represent the two main currents of the art fair system. The first one is relying on the virtual realm to distribute and replicate the offering, while the second is the eagerness to resume business as usual. The latter being a hopeful wish as opposed to a possible reality. Even if art fairs can open in the fall, they'll still have to accommodate rules and regulations surrounding social gatherings. In general, people – mostly elderly ones and even young and healthy ones- will not simply jump on a plane with the same confidence as they had before the pandemic.
The outlined scenery brings forth the following two questions: Will digital platforms have a long-lasting effect on the distribution of artworks? And will this new format prove to be profitable for the art fairs, galleries, and art community that frequent these events on a yearly basis?
Certainly, virtual formats are beneficial and have provided great opportunities to sell to collectors around the world, not to mention promote artists who may or may not be overlooked in a geographic location. Aside from the sensorial and almost spiritual experience of looking at art in person, collectors are also used to being pampered at art fairs around the world, which usually comes with collector bags, free champagne, and an opportunity to cater to their every whim. Without this social interaction, what will happen with galleries, and how can they provide the same experience online?
Most likely, a strategy navigating both channels will be set in motion: the digital one and the physical one. The first one is more immediate and reduces logistical costs for galleries, while the second is linked to the usual back and forth of conversations and, probably, will include a much-reduced quantity of exclusive social events. Whatever scenery arises, art fairs still need to be profitable for both gallerists, artists, and organizers.
It is reasonable to think that, once it is possible to do so, the art fair system will resume business as usual while it will also benefit from the newly created digital tools. Nonetheless, given the uncertainty of when that would be, at least for early 2021, we will continue to witness a fast-paced changing scenery within the art fair system.