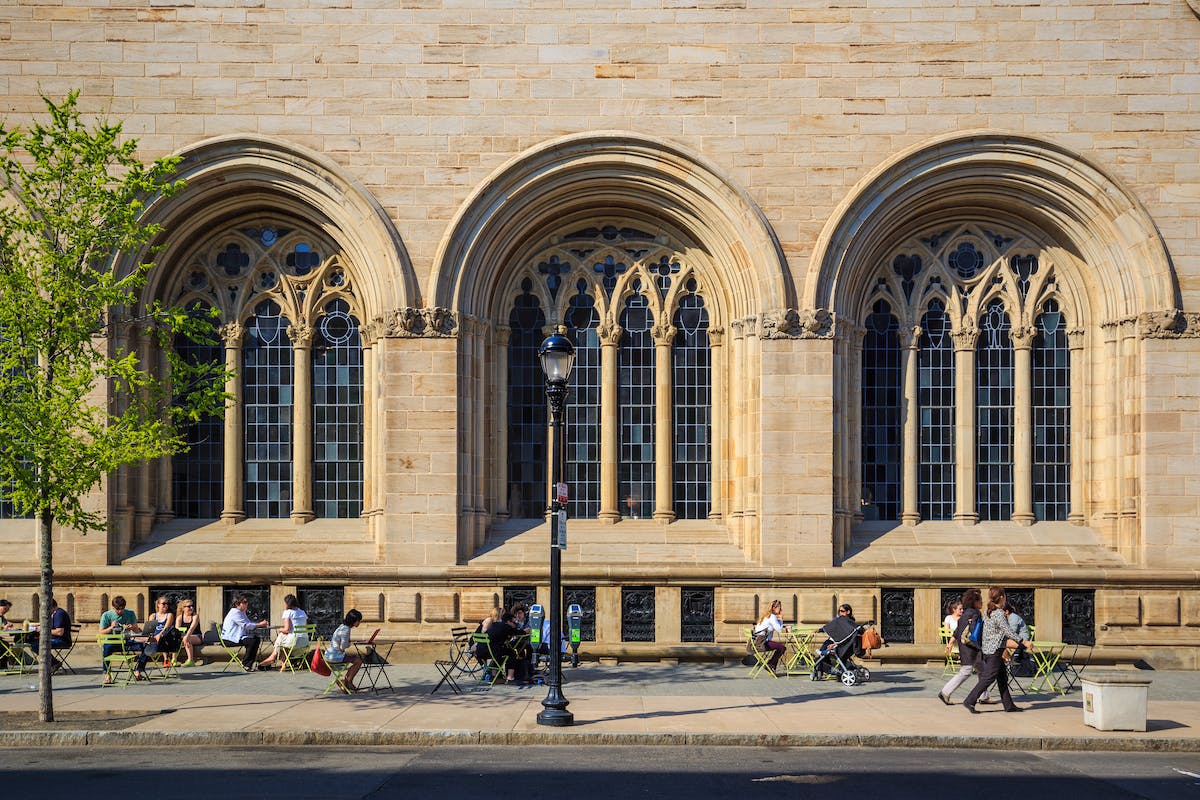 Are you an artist fresh from your BA seeking to expand your practice, or do you want to understand better how MFAs work and what to expect from them? This post is for you. It explores what an MFA in Visual Arts is all about, names the pros and cons of enrolling in such programs within the US, and details the top-ranked art schools.
What is an MFA?
First things first, you may already know this, but a Master of Fine Arts or MFA is a graduate-level degree for those studying visual and performing arts, design, or creative writing. It is a terminal degree similar to degrees granted in other fields, such as the Ph.D. Now, the curriculum and focus of an MFA can vary depending on the area of expertise. Some studio-based programs are interdisciplinary and welcome all genres, while others focus on a specific medium or topic. In broad terms, MFAs are usually divided into Visual Arts, Performing Arts, Design, and Creative Writing. This post will focus solely on Visual Arts grad programs.
According to the College Art Association of America guidelines, MFAs welcome many types of formats, but residency intensive programs, and studio and academic curricula are highly recommended. As a means to obtain the degree, usually, examinations, a written statement of one's work, and a graduate exhibition are required. Time-wise, most full-time MFAs last two years, and some last up to three. There are also some programs that have part-time or low-residency options offering a mix of in-person classes and remote work. Bard College, for example, offers an MFA where coursework is concentrated on summers and off-campus work during the winters.
Now, what kind of jobs can an artist get with an MFA? The MFA degree is the standard qualifying degree for teaching visual arts at the post-secondary level. So, those seeking a teaching career should strongly consider getting one. Likewise, an MFA may also boost an artist´s application when trying to apply for grants, fellowships, or awards, but this is not written in stone. As we will see, getting an MFA does not guarantee an artist will get his or her dream job or pay rate.
All in all, an MFA is time, money, and energy-consuming, so those looking into it should consider: Is this right for me? Does graduate school fit into my life? Am I ready to do a two-year, immersive program? What is my financial situation? And, importantly, what am I expecting to get from this degree? These questions are deeply personal so there is not a right or wrong answer. Below I explore the most important issues associated with an MFA and which schools have reported the best results so that anyone interested can make an informed decision or know more about this degree.
MFA under the spotlight: cons and pros
When talking about MFAs, one cannot overlook the controversy that has surrounded the program. As Artnet News detailed, in the early 2000s, MFAs were frequently promoted as a Golden Ticket for young artists, with a growing youth-oriented art market generating rumors of dealers signing in artists fresh out of school. It seemed as if an MFA would somewhat guarantee an artist getting gallery representation. During this period, as explained in an Artnet News editorialabout the so-called Zombie Formalism, many gallery exhibitions of young artists sold out before their openings, and students at MFA programs, like Columbia University's, got visits from collectors who bought their work directly from their studios or lofts.
In part resulting from this frenzie, the alumni of MFAs grew. The National Center for Education Statistics reported that the number of students who received an MFA in the visual and performing arts increased more than 50 percent between 2000 and 2014, and, likewise, the cost of tuition at universities nationwide grew exponentially, with the average tuition at private universities increasing almost 50 percent.
However, during the last few years, the belief that MFAs can result in an artist's success has been continuously challenged given, in great part, to the financial burden that most of these programs have attached, which brings us to the first con of MFAs: Debt. The debt that artists incur when enrolling in these programs is usually high, even if one secures financial aid. Of course, costs vary depending on the school. For example, top-tier schools usually involve expensive tuition and a lot of living expenses, while public and state universities are well-funded but in high demand. To help with this, some schools offer fellowships, assistantships, and departmental awards that can at least reduce the financial burden.
However, all in all, the pay that most artists receive for the jobs they get out of grad school does not guarantee they would be able to cover their debt. As proof of this, pay scale-wise, the online salary and compensation information company ranked the career earning potential for students receiving a master's in studio art 182nd on a list of 189 top master's degrees.
Particularly during the last decade, strong voices within the art world have spoken out about the high cost of grad school and have proposed changes within the grad teaching system. For example, a much-quoted article by Jerry Saltz, art critic and a teacher, harshly criticized the MFA system demanding younger teachers should be signed in, students should be encouraged to make less derivative work from what their mentors do, and, back to the money issue, students should look for more affordable options to avoid incurring debt.
Another one of the most outspoken voices in this ongoing discussion has been Coco Fusco, an artist, theorist, and teacher at MFA programs such as Columbia University. She has written diverse articles, such as this one published in The Brooklyn Rail, where she questioned the pedagogy, real goals, high costs and results of the MFAs, and evidenced the instant yet ephemeral market success it has granted to some young artists. Fusco even organized a day-long event dealing with this topic at Cooper Union alongside the artist Noah Fischer called The Artist as Debtor: The Work of Artists in the Age of Speculative Capitalism. Some of the questions asked in this forum were: Is it a coincidence that in an age in which art can be made from nothing, the price attached to an art degree is staggeringly high? And, what are the connections between big money in the art world and the big debts taken on by so many young artists? Fusco once declared to Artnet News, "There are too many MFA programs," adding, "There are too many students enrolled in MFA programs, and the market will never be able to absorb them.
Long story short, if it's market success or a better salary that an artist is trying to get out from a MFA, she or he may end up disappointed since there are a lot of other factors involved in guaranteeing an artist´s financial success in the long run. However, even the harshest critics agree that, if an artist is looking for a life-learning rich experience and to deepen its practice, then an MFA can be a good option. If this is the case, it is important to keep in mind that the curriculum and faculty should align with your specific interests and needs. Mentors are critical to this degree and can either enrich your experience or make it hell.
Other pros of getting an MFA is getting a space to explore your craft, build a community and professional network, profit from the mentorship and camaraderie of fellow artists, explore new techniques in the usually amazing studio spaces and facilities, and learning how to better articulate your work. And let's face it, you will develop a high level of tolerance to frustration resulting from the usually harsh and blunt critiques that a student will receive from peers and teachers alike.
Now, let's look at the top-ranked programs and the ones that had produced better results in terms of artists´ sales and visibility.
What is the best MFA program out there?
First and foremost, given the variety of MFA programs out there, it is impossible to pinpoint one program that is "the best" for all, but rather artists should look for the one that best suits their needs and interests. That depends on the topics or mediums you are interested in exploring, and also depends on the faculty that is effectively dictating courses and the visiting artists that will be there for you when you enlist there. Also, the location of the program and the costs associated with the degree should be weighed into the equation. With that being said, there are always rankings and numbers involved in any University system. For example, US News most recent ranking of the best MFAs in Visual Arts, listed the University of California, LA at the very top, followed by School of the Art Institute of Chicago, Yale University, and Virginia Commonwealth University. As with any ranking, this list resulted from a specific methodology. In this case, deans and other academics at 227 MFA programs in art and design schools were asked to give their opinion on this matter. This is just to say there are many types of rankings out there with different results. Such is the case of a completely different type of study conducted, in 2016, by Artnet news analyzing the effects that getting an MFA has on the careers of artists in terms of their sales. To explore this, Artnet news created a list of the 500 most successful American artists at auction from artnet's Price Database, looking at artists born in 1966 or later to explore how many of the artists listed there held an MFA. As part of the results, the study concluded that half of the highest-selling US artists included in the list held an MFA, while the other half did not. Even among the 10 most successful figures, six lacked an MFA. Over these 50 years, Yale's Graduate School of Art has produced nearly 10 percent of the most successful artists sales-wise. According to the list, 45 of those artists attended Yale, 26 attended UCLA, and 18 attended Columbia.
The key takeaway from this study was that, while students that enrolled in the most important nationwide art programs (especially Yale followed by UCLA) have access to a network of collectors, galleries and connections; those enrolled in other programs do not have access to those connections but can benefit from such programs as a means to expand and deepen their practice. All in all, there is not a direct connection between having an MFA and being a top-selling artist. Some, as Coco Fusco, have argued that art schools are not galleries even if some try to treat them as such given the recent shift of dealers that look for young artists´s work. Fusco thinks MFAs are supposed to be a place of learning that can also include some networking and community-building.
Given that UCLA and Yale appeared in both studies, let's take a look at what they offer and how much they cost. According to UCLA website, their MFA offers six areas of specialization: Ceramics, Interdisciplinary Studio, New Genres, Painting and Drawing, Photography, and Sculpture. These studio areas are supplemented by seminars and lectures in contemporary critical theory. The program entails a lot of studio time, and reviews of graduate work in the winter and summer. It involves a commitment of two to three years and finishes up with a graduate exhibition. As to how much it costs, Artsy reported that the tuition for new master's students in the 2017–18 year was $16,898 for California residents and $32,000 for non-residents; with many students receiving some sort of financial aid.
Now, the MFA offered by Yale is one of the most prestigious of all. Despite the $80,000 tuition for the two-year master's program that is divided into Painting/Printmaking, photography, and sculpture, Yale has the reputation for helping students start their careers through their well-connected faculty and visiting artists. For instance, students want to follow the example of Jordan Casteel, an alumnus who showed her paintings at a New York gallery months after graduating in 2014 and landed her first solo exhibition at the New Museum in New York, explained The New York Times.
Now, it is important to keep in mind that there are many other programs out there that are not related to top-tier art schools that have an interdisciplinary, original, and engaging programming. On the other hand, as a result of the pandemic, MFAs have been forced to make changes given the studio spaces and facilities were closed forcing artists to work by themselves and their graduate exhibitions being cancelled. This opened up unseen partnerships with alternate spaces, such as galleries, and the speedy set up of big scale online platforms to showcase their works and their graduation shows. All of these issues are worth exploring, and we will cover them in future posts.