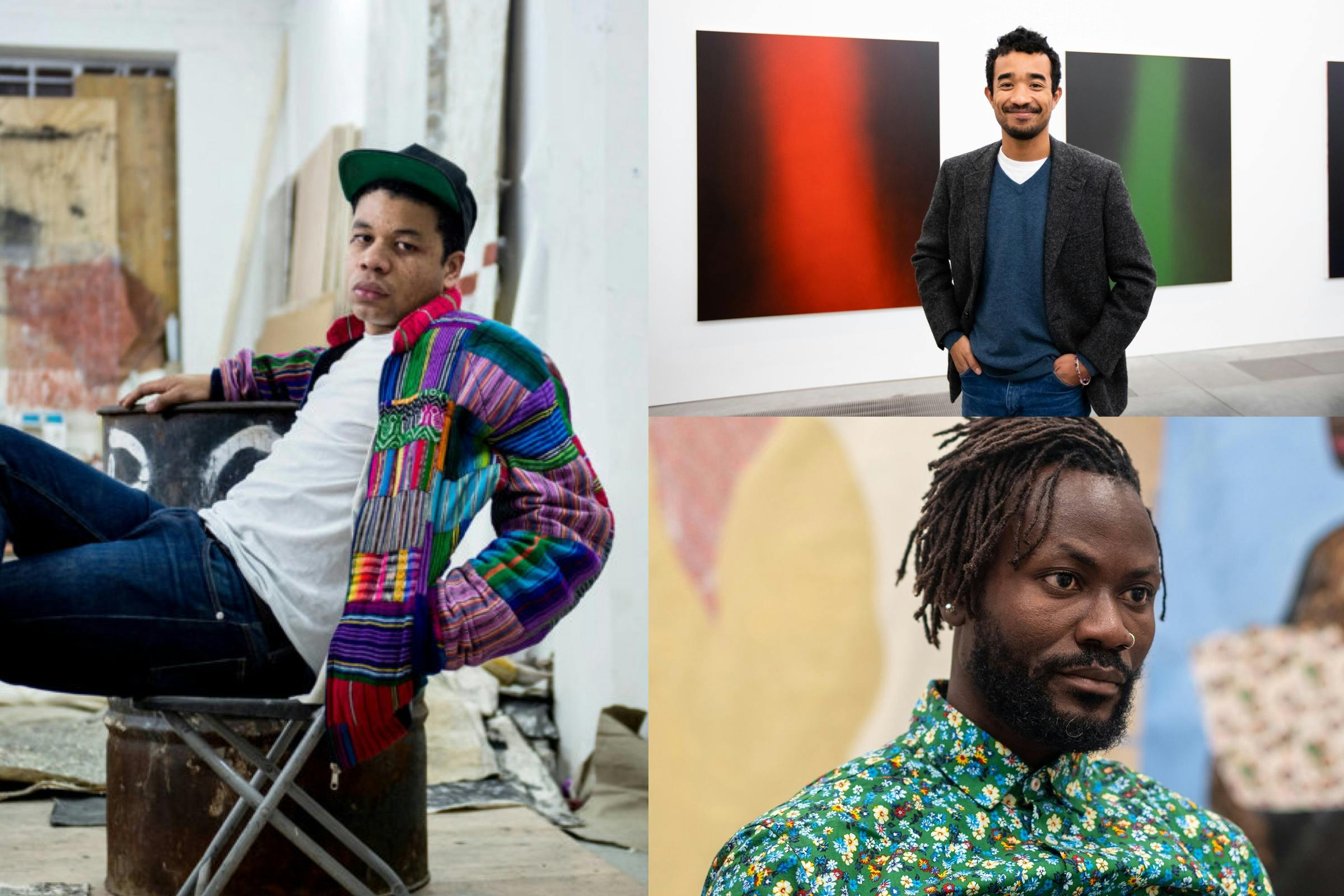 While art flipping has been around for decades, awareness of the subject and how it negatively affects the careers of emerging artists is starting to get traction within the art market. Can this practice be regulated? And, should galleries, art advisors, auction houses, and art dealers do more to stop the practice? This article explores the consequences of art flipping while also touching on the importance of reducing or, preferably, avoiding it completely.
What is Art Flipping?
"Flipping" is the practice of buying an asset and quickly selling it on the market to make a quick profit. This practice is commonly seen in real estate and stock market trading, but has also become more common in the art market over the last 10 years. An article written by Artsy, states that the term "flipping" has become a dirty word among the artworld. But regardless of how long "flipping" has been around, during the last 10 years, art flipping has made headlines and been proven to be extremely detrimental to artist careers.
More often than not, reselling artwork within short periods of time creates a speculative bubble around the artist's work. Art flipping is commonly seen when an emerging artist makes a major auction debut, encouraging collectors to sell while the artist is hot. In an article from Artsy Alina Cohen explains how established artists like Jeff Koons and Takashi Murakami seem to suffer less from the effects of this practice than younger, living artists do.
The flipping of artworks by emerging artists creates several issues for the artist and their market: To highlight a few it sets unachievable price goals for future works, infuses an unstable perception of the artist´s market, and adds tremendous pressure to the artist to produce work of similar value. Furthermore, when a collector puts an artwork up for sale at auction (also known as the scene of "flipping") it enters the secondary market and the artist can no longer obtain profit from these ground-breaking sales.
Next to the mixed opinions and effects of "flipping", there are published studies that have tracked the development of art flipping. In 2014, one of the first statistical analyses of art flipping was conducted by The New York Times. The analysis revealed that the reselling of artworks at auctions has not significantly increased since 1995, and postwar and contemporary artworks have been owned for an average of 3 years before being sold on the secondary market. This study concluded that, at least until 2014, the practice has been somewhat cyclical. While art flipping has been around for a while, the current culture of flipping the works of young, living artists has taken on a life of its own; it's a new market trend, and is now embracing and seeking new Black artists. Additionally, Andrey V. from Widewalls reported that there are entire websites, like ArtRank, or blogs revolving around art flipping that make it easier for collectors to engage in this practice.
Along with the new market of art flipping, there is also a new genre of collector. According to Art Market Guru, millennials are twice as likely to flip art, either to obtain a profit or to buy more artwork for their growing collections. Millennials also tend to see art as a financial asset and an important part of a comprehensive wealth-building strategy. The same source explained that this generation is especially drawn to contemporary art; this market attracts more than 90% of young collectors (under age 40). However, "flipping" is not solely conscribed to one generation. Well-established collectors such as Charles Saatchi, Stefan Simchowitz, or, more recently, the Japanese Takumi Ikeda have been known to "flip," often receiving backlash from artists and galleries alike.
Some artists that have been "flipped": Murillo, Smith, and Boafo
The "Murillo effect"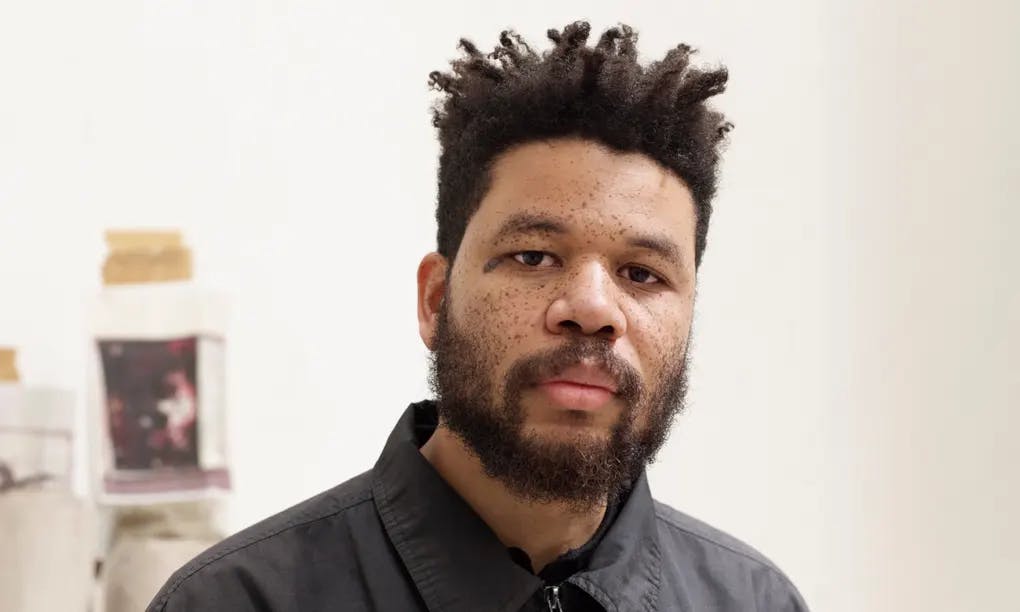 In 2013, Oscar Murillo (La Paila, Colombia, 1986 ) was one of the hottest artists to hit the contemporary art scene. He was just coming off of his first solo exhibition in the United States with the Rubell Museum, and collectors were looking to acquire whatever they could by the abstract painter. In 2013, the artist made headlines when, Untitled (Drawings Off the Wall), went for $401,000 at Phillips New York. In an article from Artnet News, this sale set an auction record and established Oscar has a force, which paved the way for collectors to sell $3.2 million in work between 2013 and 2015.
With the rapid rise in popularity, Oscar's work unfortunately took a hit when an exhibition at David Zwirner failed to achieve the results attributed to someone of his stature. Many have attributed this to the rapid rise in auction prices, and the unachievable expectations bestowed on an artist still finding his way. Due to this rapid rise and fall in demand, the term "The Murillo Effect" was created to inform artists of the dangers of flipping, and how speculative bubbles can negatively affect an artist's career. Fortunately for Oscar, he was able to get the representation he needed and work with David Zwirner to ensure that he became a leader in the contemporary art world.
In 2019, Murillo reached a career landmark when he was awarded the Turner Prize, along with Helen Cammock, Tai Shani, and Lawrence Abu Hamdan. Peter Benson Miller from Flash Art exclaimed that Murillo was saluted for pushing the boundaries of materials. Furthermore, while the artist´s market was unstable for some time, he managed to carve a name for himself independently from the ongoing market speculation.
Lucien Smith: a young artist disillusionment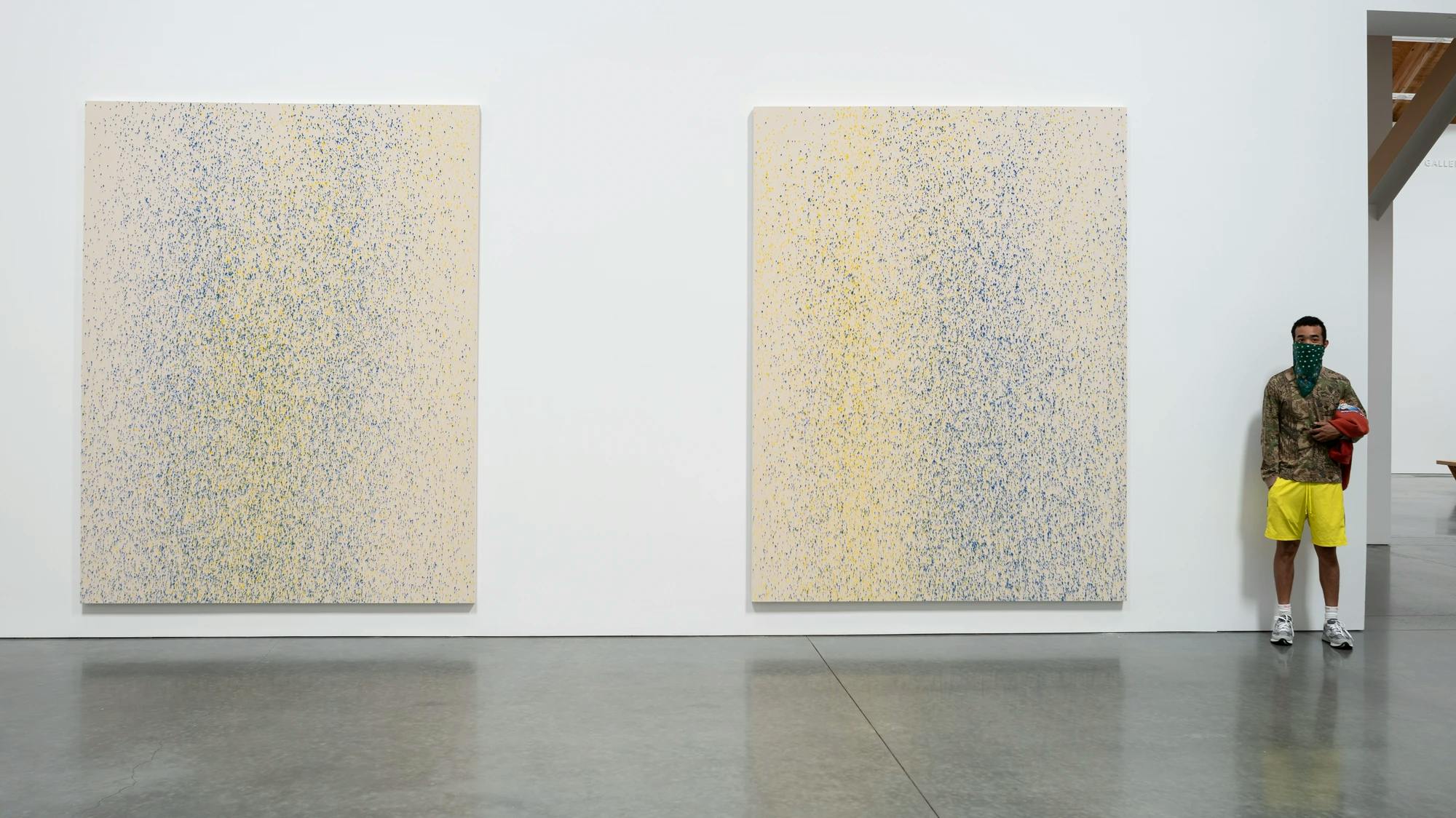 Lucien Smith´s (American, 1989) work was first auctioned in 2013 when he was producing his so-called "rain paintings." The paintings were constructed by loading paint into fire extinguishers and spraying it across the canvas. Artsy posted that his first canvas to go to auction, Hobbes, The Rain Man, and My Friend Barney/Under the Sycamore Tree (2011), was sold for $389,000, with an initial estimate of $150,000. However, recently his paintings representative of , the so-called "zombie formalism" (a term coined in 2014 by Walter Robinson addressing the vogue for a certain type of abstract painting among collectors known for their speculative investment in young artists) have been either "bought-in" or not sold, and have gone out for $5,000 to $20,000.
In a TEDx Talk at Columbia, the artist acknowledged the negative effects of his sharp rise in fame, leading to his own personal crisis and disillusionment with his artistic process. The expectations were far too high. In April, Lucian shared with Hypebeast that he decided to take some time off to focus on his well being, closing his studio in 2015 and moving to Long Island where he currently works with absolute creative freedom. Allie Monck from Document shares that nowadays Smith is the leader of Serving the People (STP), an arts nonprofit that intends to create a multidisciplinary program free of commercial bias. In this case, flipping had a lasting effect, which catalyzed him to reinvent himself outside of the mainstream art market.
Amoako Boafo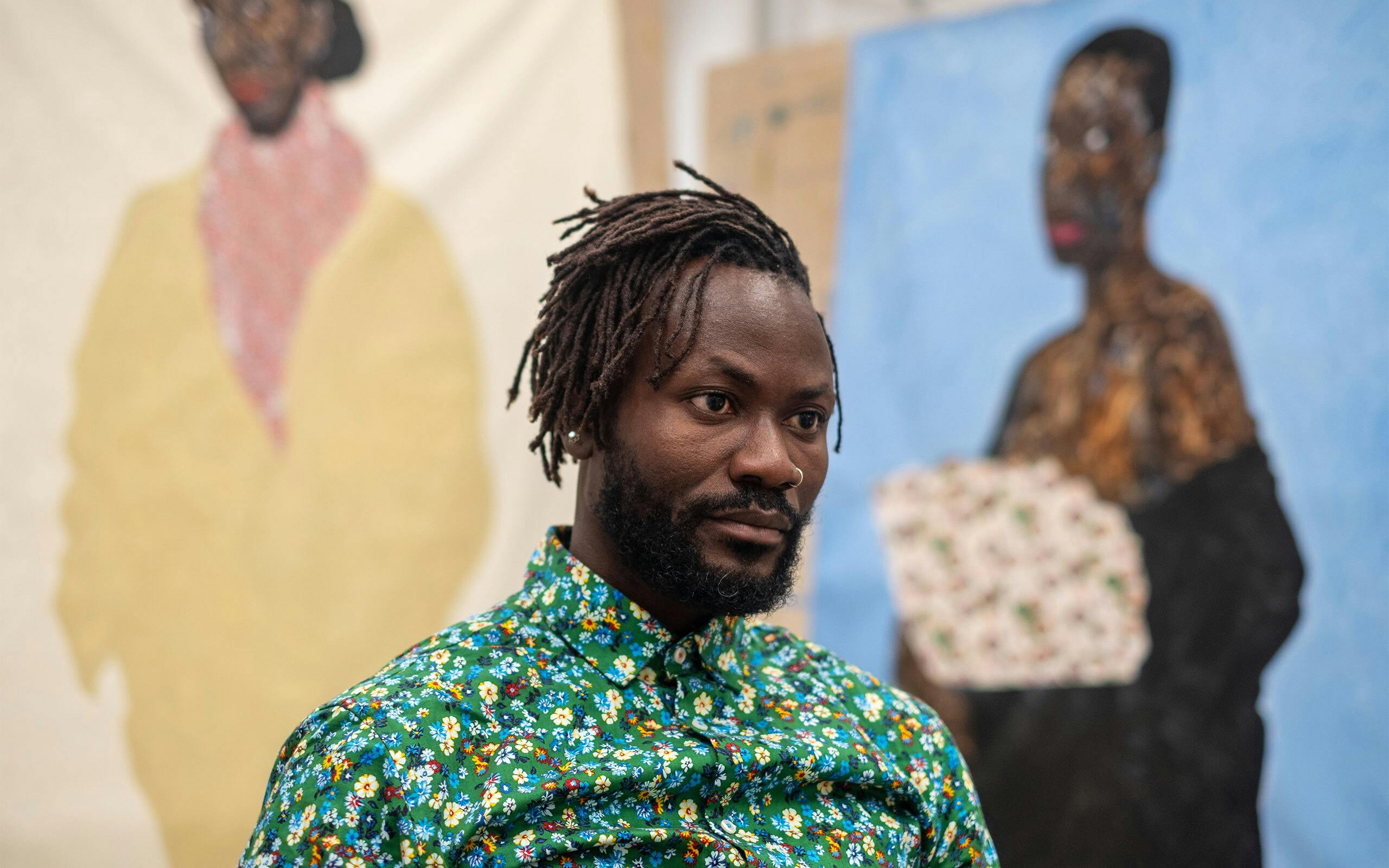 Amoako Boafo (Accra, Ghana, 1984), who previously was highlighted as a black artist to watch, is another young artist whose work has repeatedly been flipped. In 2019, Boafo firstly made a buzz in the US market when he was selected to be the first artist in residence at the newly opened Rubell Museum, and later his work was completely sold out at Art Basel Miami. And, in February 2020, his works, inspired by the Black diaspora, reached the secondary market.
As Artsy reported, the painting, The Lemon Bathing Suit (2019), was priced at $25,000 and sold to Stefan Simchowitz with a 10 percent discount. Initially, Simchowitz contacted Boafo but was turned away due to his reputation as an art flipper. Simchowotiz was persistent and managed to acquire the work by going through Jeffrey Deitch, who was consigning work on behalf of Roberts Projects in Los Angeles. Simchowitz owned it for a matter of months before putting it up for sale at Phillips, London. Initially the painting was estimated to sell between $38,700–$64,500, but sold for $881,550. In a recent article from Artnet News, that is one of the most in depth texts that have been published on the subject to this date, the purchasers of the painting were revealed and also the intended participation of the artist in this sale was undisclosed. Ari Rothstein and Raphael Held, two art collectors, offered to purchase the work on behalf of Amoako to help him regain control of his market. In exchange for buying the painting at auction, Amoako promised to give Ari and Held $480,000 worth in artwork, which consisted of one large painting and two medium paintings. Unfortunately, this deal only increased the amount of flipping surrounding Amoako´s work when those three paintings sold for a combined $644,500 that year.
Another great example that was covered in the same Artnet News article, details the actions of Benjamin Ikwueme, a young London-based collector, who messaged Amoako Boafo over Instagram stating that he loved his work but couldn't afford it. Out of the kindness of his heart, Amoako sold Ikwueme 7 13-by-13-inch drawings and a large painting for only $1000. Two years later, Boafo was dismayed to see that the paintings he had sold to Ikwueme were being offered at auction houses around the world. Two of the portraits sold at Bonhams in June for a combined $167,500, while another two went for$114,000. All in all, the flipping of Amoako´s work has netted Ikwueme $696,000. Even if the flipping of his works continue, Amoako luckily has also a great number of solo museums exhibitions lined up in the near future and his works have also been placed in museum collections or in the collections of influential museum trustees. Both features are fundamental to legitimizing an artist's career outside of the speculative bubble.
Can something be done to regulate art flipping?
While art flipping has been condemned within the art world, only few have taken measures to regulate the practice. In 2017, Austrian dealer Thaddaeus Ropac publicly called for the release of a black list of notorious art flippers. Ropac told Artsy that "flipping is still a big problem, and mainly at auction where we still see the highest prices…it's a very delicate issue; we need to be very careful who we sell works to." The harsh reality is that galleries usually can't afford to black list collectors because the collectors are the ones with all the power in the market. Moreover, the way in which the global art market works makes this potential black list not feasible . Other galleries have established waitlists for artwork as a way of ensuring proper and meaningful placement. Collectors are not the biggest proponents of this practice given that it slows their collections and forces them into a vetting process for specific works.
Some galleries have added clauses intended to prevent flipping to their selling contracts, but unfortunately, according to Artsy, these clauses are not legally enforceable. However, Artnet News described how some of the mega galleries, like David Zwirner, have imposed financial penalties on salespeople who sell work that ends up at auction too quickly.
While auction houses are the largest marketplace for "flipping," they also have the most power and influence to change the art flipping culture. Christie's "Say It Loud (I'm Black and Proud)" sale was an online exhibition featuring works by 22 emerging and mid-career Black artists. The auction house and the show curator, Destinee Ross-Sutton, took measures to avoid the flipping of the works. As reported by Eileen Kinsella from Artnet News, not only will each artist receive 100 percent of the proceeds, but buyers must sign a contract stating that they will not resell the work within 5 years of acquring it. If the buyer does want to sell, they must give the artist the right of first refusal, and if they are selling to a third party, they must give 15 percent of the upside back to the artist.
While auction houses and galleries are taking steps to reduce the effects of art flipping, there are more mundane actions that can reduce the practice as well. In an era where reputations are built and broken by social media, another effective method of reducing art flipping is by using influencers and opinion-makers to publicly shame "flippers." Of course, some flippers will remain unfazed but others will think twice before facing public scrutiny.