The 15 Most Expensive Paintings and Why
Wed Jun 03 2020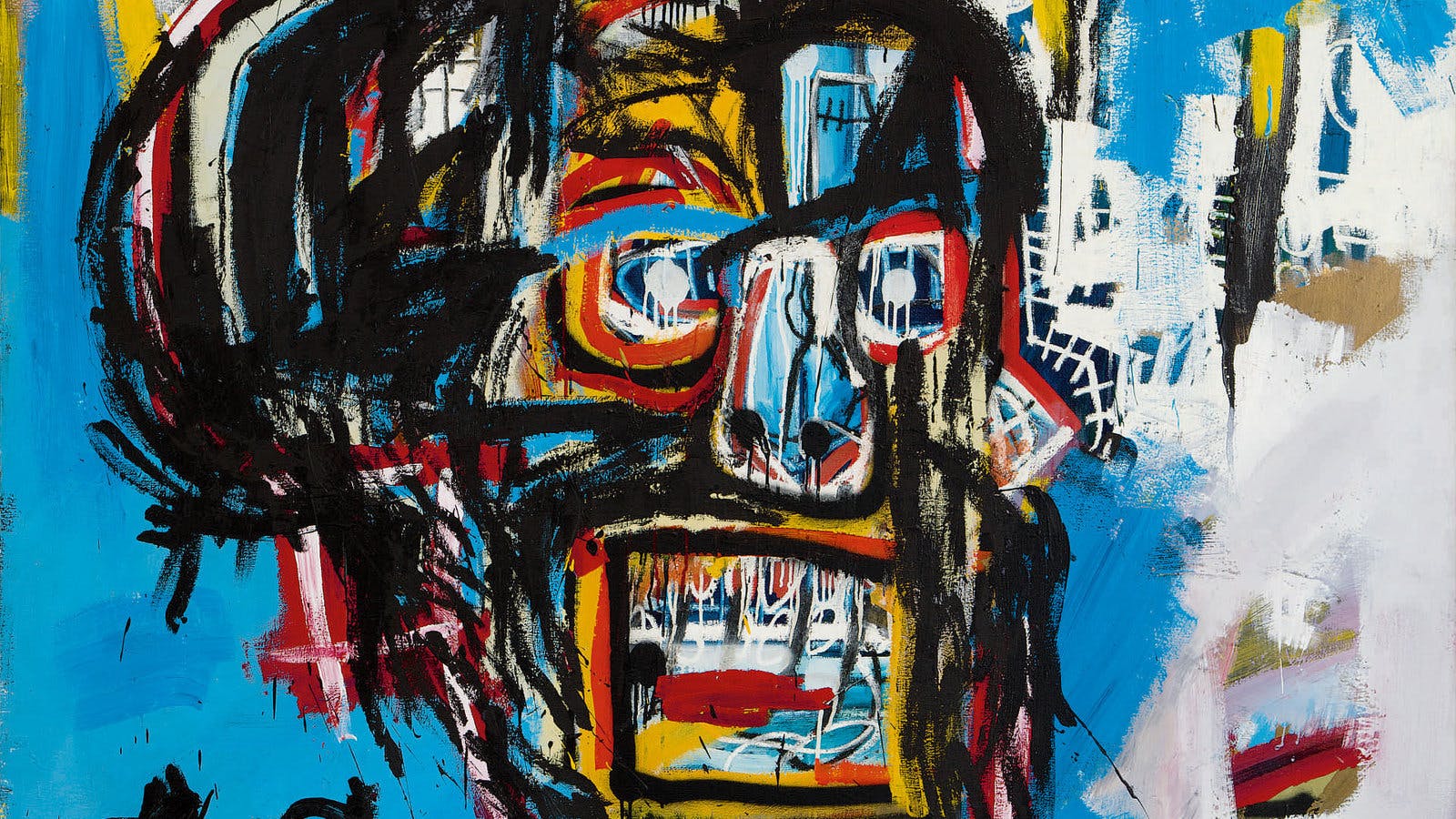 The global art market is currently hovering at an estimated $65 billion in annual sales. Over the last couple of years more than 40 million transactions have taken place, making art a substantial contributor to the global economy. With art prices soaring and auction records happening every quarter, one can't help but ask why is art so expensive and what makes a painting worth $450 million dollars? To briefly answer these questions, there are many factors in determining the value of a painting; including scarcity, quality of work, appreciation, gallery endorsements, fame, and the market conditions surrounding the artist's work.
Olav Velthuis, a professor at the University of Konstanz has stated that "The art market functions as a big census market machine. What people do is look for quality signals. Those signals can be what an important curator is saying about an artist; what museums are exhibiting an artist, and what influential collectors are buying. Signals like these are incredibly important for tracking the value of one's art collection, which is why we at ArtCollection.io have created a platform to do just that.
To help you understand the art market and the incredible sales that have taken place, we've done our research to compile a list of the top fifteen most expensive paintings ever sold.
15. Untitled, 1982, by Jean-Michel Basquiat: $110.5 million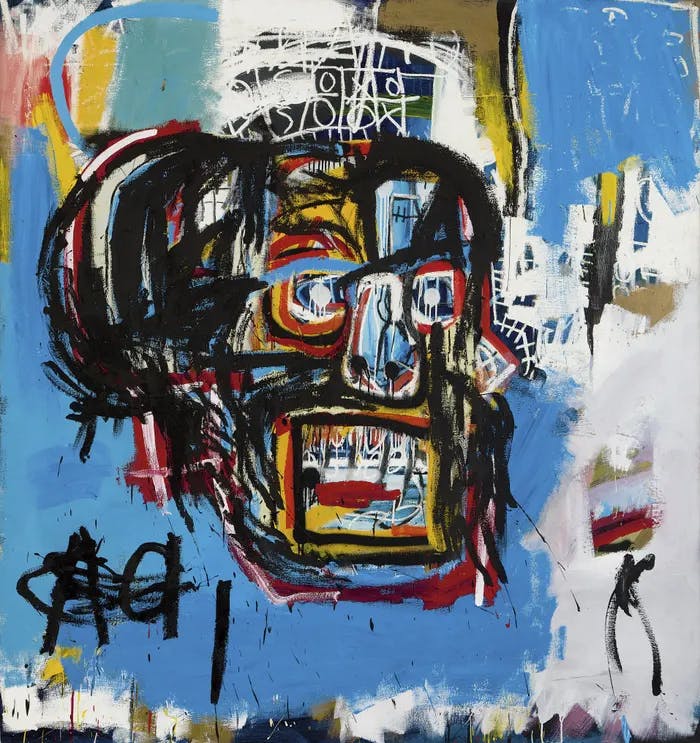 Photo of Jean Michel-Basquiat's Untitled courtesy of Sotheby's
Jean-Michel Basquiat is one of the most sought after contemporary artists of the 20th century. His market has exploded with celebrity collectors including Ellen Degeneris, Alex Rodriguez, Sharon Stone and many others. His market hit an all time high in 2017, when japanese billionaire, Yasaku Maezawa, purchased the painting "Untitled, 1982", for $110.5 million at a Sotheby's Contemporary art auction in May. As one of the most sought after examples of Basquiat's work, Untitled 1982 highlights the artist's artistic style of combining urban/street art with his love and admiration for art history. The painting also comes from an incredible time in Basquiat's life, as 1982 was the year that Basquait started to experience stardom in the New York City art scene. At that point his work was evolving because he was producing it for himself, rather than the patrons who had supported him in the years prior.
14. Meules, 1890, by Claude Monet: $110.7 million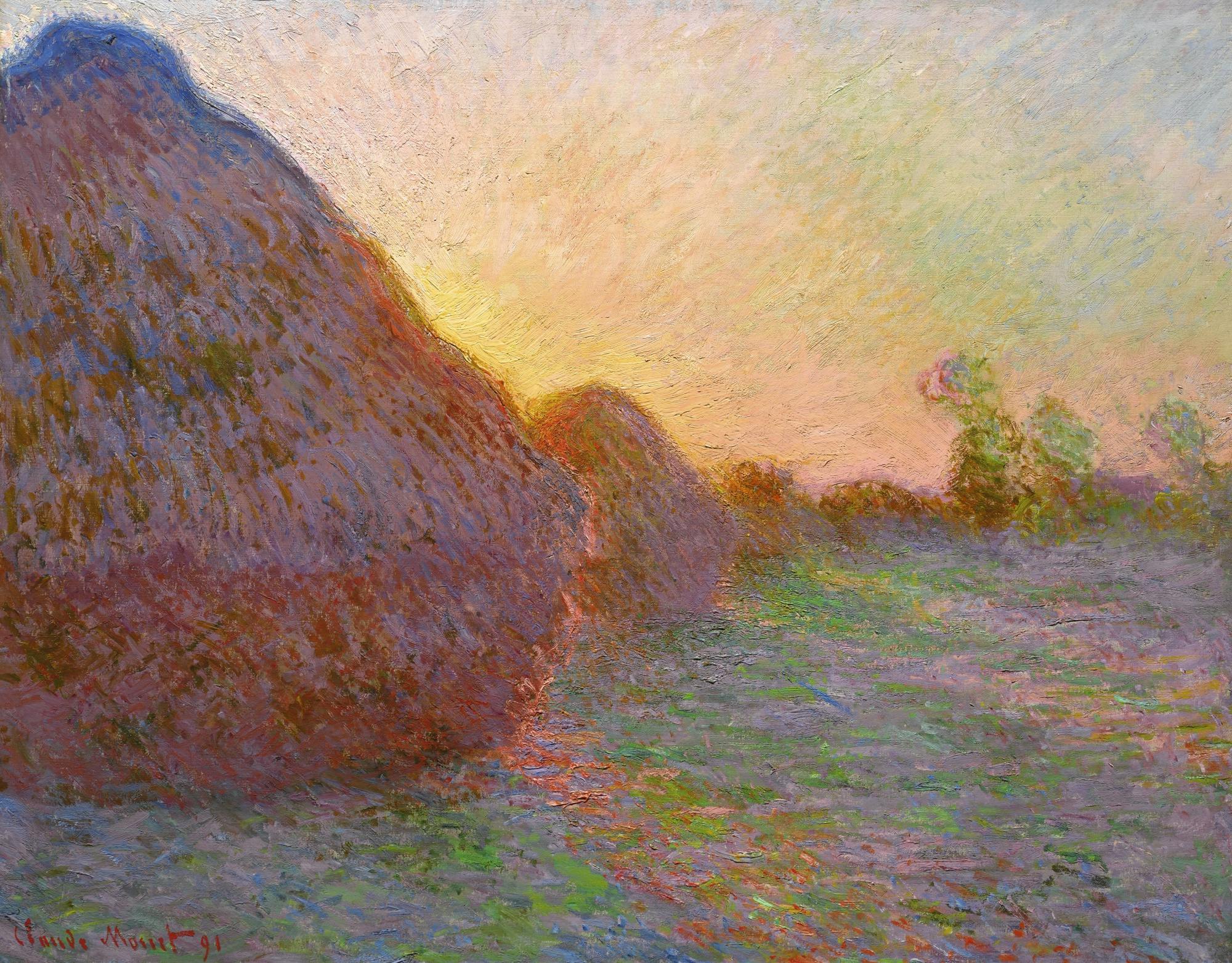 Photo of Claude Monet's Meules courtesy of Sotheby's
Claude Monet's Meules is known as "the most glorious and effusive work from the artist's famed Haystacks series" according to Sothebys. In 2019, the captivating landscape sold for $110.7 million dollars to a bidder who was able to beat out 8 others for the opportunity to own this masterpiece. In addition to being created by the godfather of the impressionist movement, Meules is a painting that comes from the iconic Palmer collection, an exquisite collection of impressionist paintings acquired by Bertha Honoré Palmer in the late 1890's. While the provenance is impressive, the subject matter is what sets it apart from others. To own a haystack by Claude Monet, is the equivalent of owning a portrait by Rembrandt, a color field painting by Mark Rothko, or a drip painting by Jackson Pollick.
13. The Scream, 1895, by Edvard Munch: $119.9 million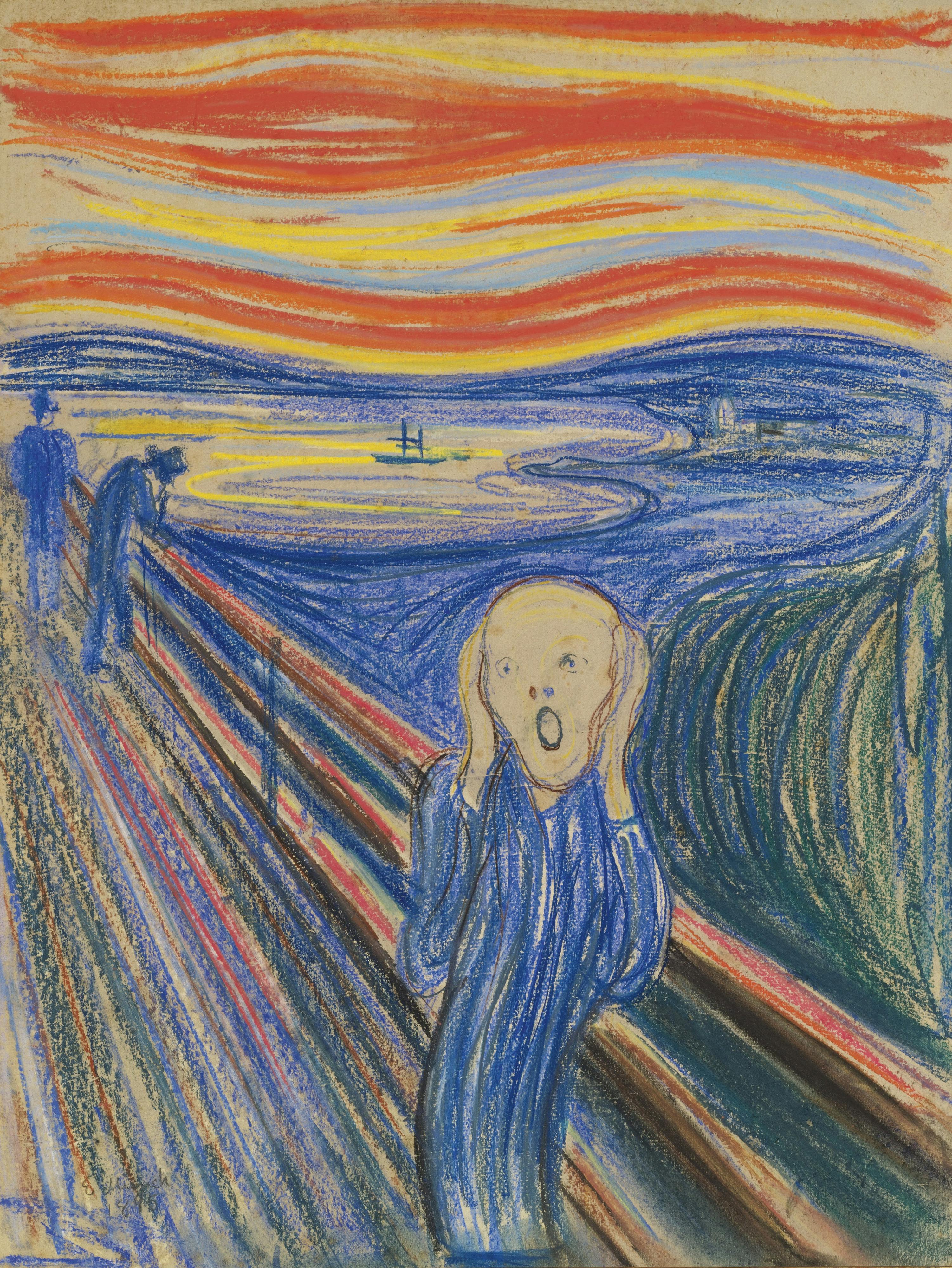 Photo of Edvard Munch's The Scream courtesy of Sotheby's
The Scream is one of the most recognized paintings in art history. It's known as the painting that launched a thousand therapists according to Simon Shaw, head of Impressionist and Modern Art at Sotheby's. The work alone makes us realize the angst experienced by Edvard Munch when he created the original pastel version in 1893. What many people don't realize is that the version depicted above, is one of 4, with the other 3 located at The Oslo National Gallery and The Munch Museum. What makes this work so valuable is that it's the only version still in private hands, which is why Leon David Black was willing to spend $110 million to acquire the work at Sotheby's in 2012. It is also the only version to feature a poem describing the subject matter as well, which we have included below.
"I was walking along a path with two friends — the sun was setting — suddenly the sky turned blood red — I paused, feeling exhausted, and leaned on the fence — there was blood and tongues of fire above the blue-black fjord and the city. My friends walked on, and I stood there trembling with anxiety — and I sensed an infinite scream passing through nature." ― Edvard Munch
13. No.5, 1948, by Jackson Pollock: $140 million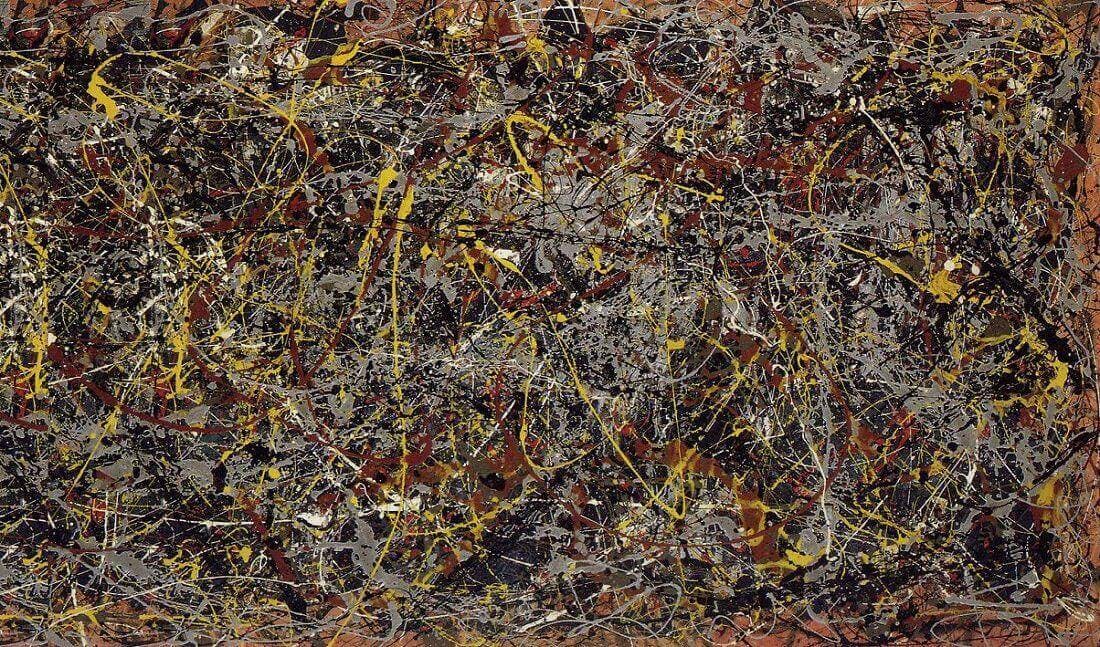 Photo fo Jackson Pollock's No.5 courtesy of Jackson-Pollock.org
It's hard to talk about art history without mentioning abstract expressionist Jackson Pollock, a painter who is primarily known for his large scale drip paintings that adorn the walls of MoMA, the Met, the Guggenheim, and many other high profile institutions around the world. No.5 was one of the paintings displayed at MoMA before it was acquired by David Geffen, who then allegedly sold it to David Marinez, the managing partner of Fintech Advisory Ltd.
12. Three Studies of Lucian Freud, 1969, by Francis Bacon: $142.4 million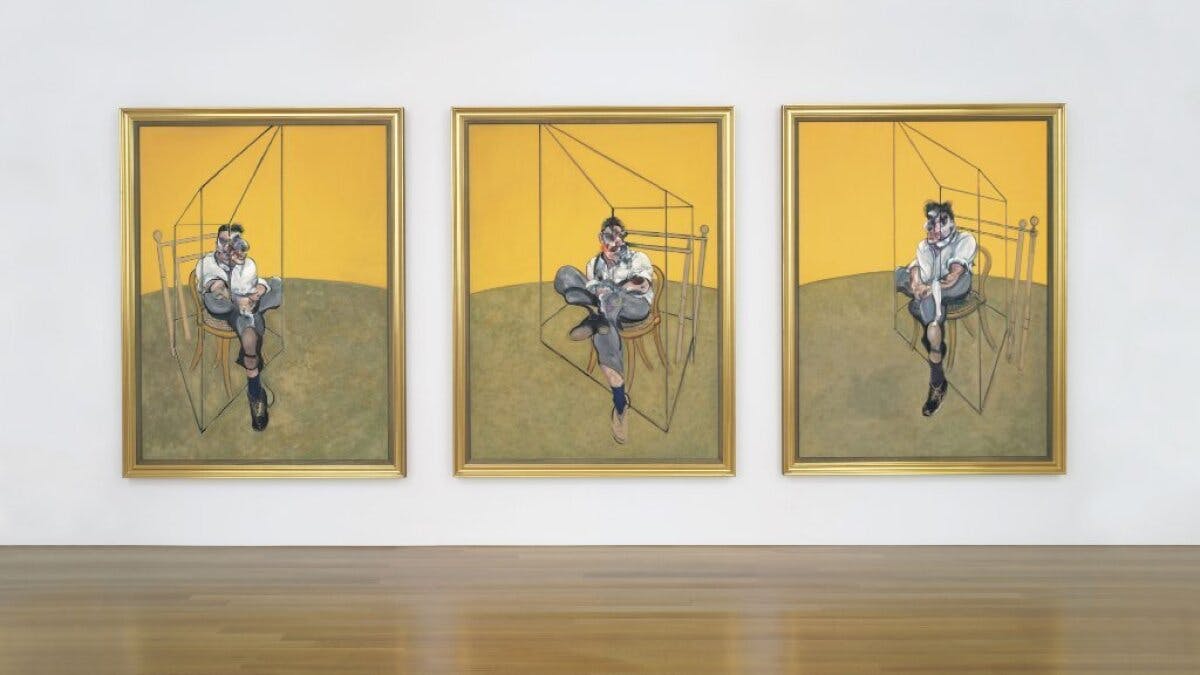 Photo of the Three Studies of Lucian Freud by Francis Bacon courtesy of The Los Angeles Times
Three Studies of Lucian Freud is an oil painting created by British painter Francis Bacon in 1969. It depicts Lucien Freud, a close friend and rival of Bacon up until their disagreements lended their relationship in the 1970's. The triptych is one of two studies Bacon did of Lucien. This work is the second, with the first not being seen since 1992. The painting is so valuable because its symbolic of the relationship Bacon had with Lucien Freud, another great british artist. The painting also has a unique story where in the mid 1970's the triptych was split up, sold to different collectors and reunited by mineral-water magnate Francesco De Simone Niquesa. In 2013 the triptych sold to Elaine Wynn for $142.4 million at Christies.
11. Portrait of Adele Bloch-Bauer II, 1912, by Gustav Klimt: $150 million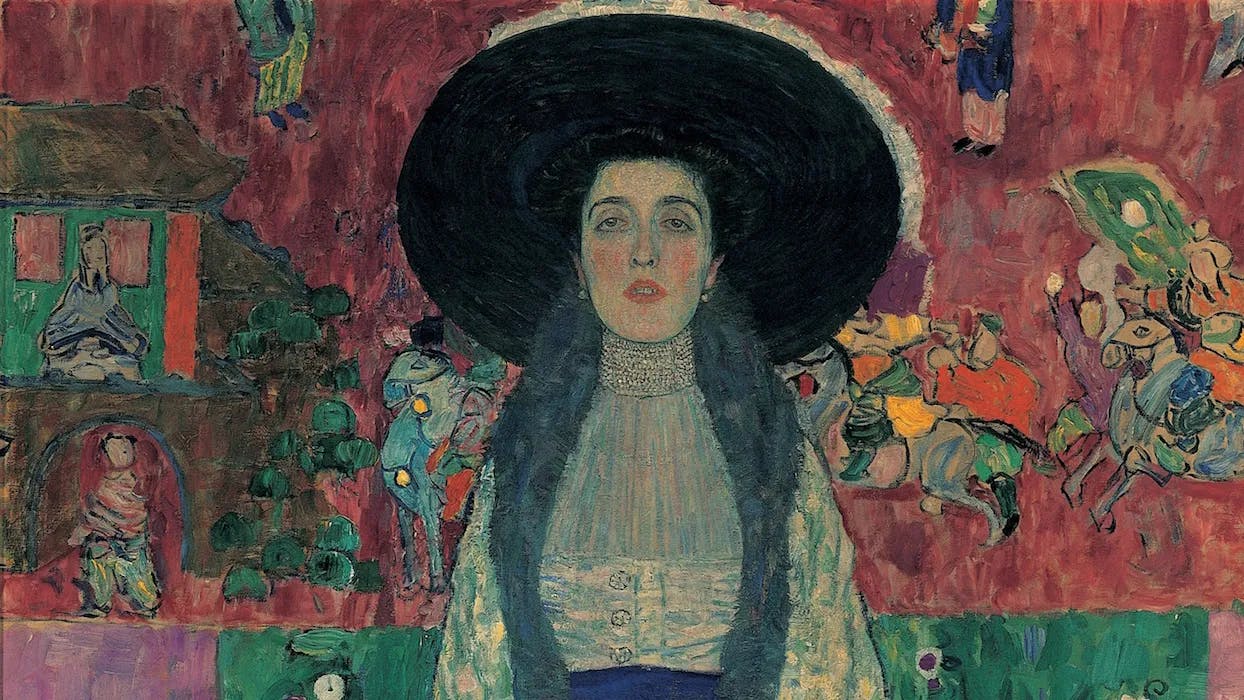 Photo of the Portrait of Adele Bloch-Bauer II courtesy of Bloomberg
In 2016, Business Insider reported that Oprah Winfrey had sold Gustav Klimt's Portrait of Adele Bloch-Bauer II (1912) to an unidentified Chinese collector for $150 million. Oprah Winfrey had originaly purchased the painting in 2006 for $87.9 million at Christies. The work was sold by the subject's heirs, who won a long legal battle with the Austrian state museum over five Klimt canvases that were seized by the Nazis during World War II. While Klimts are a rare occurrence in the public market, his price tags continue to reach outstanding levels. The painting was able to increase in value, 72 percent in the 10 years that Oprah had owned it. You'll later hear about another Klimt that sold to Russion billionaire Dmitry Rybolovlev.
10. Nu Couché (sur le côté gauche), 1912, by Amedeo Modigliani: $157.2 million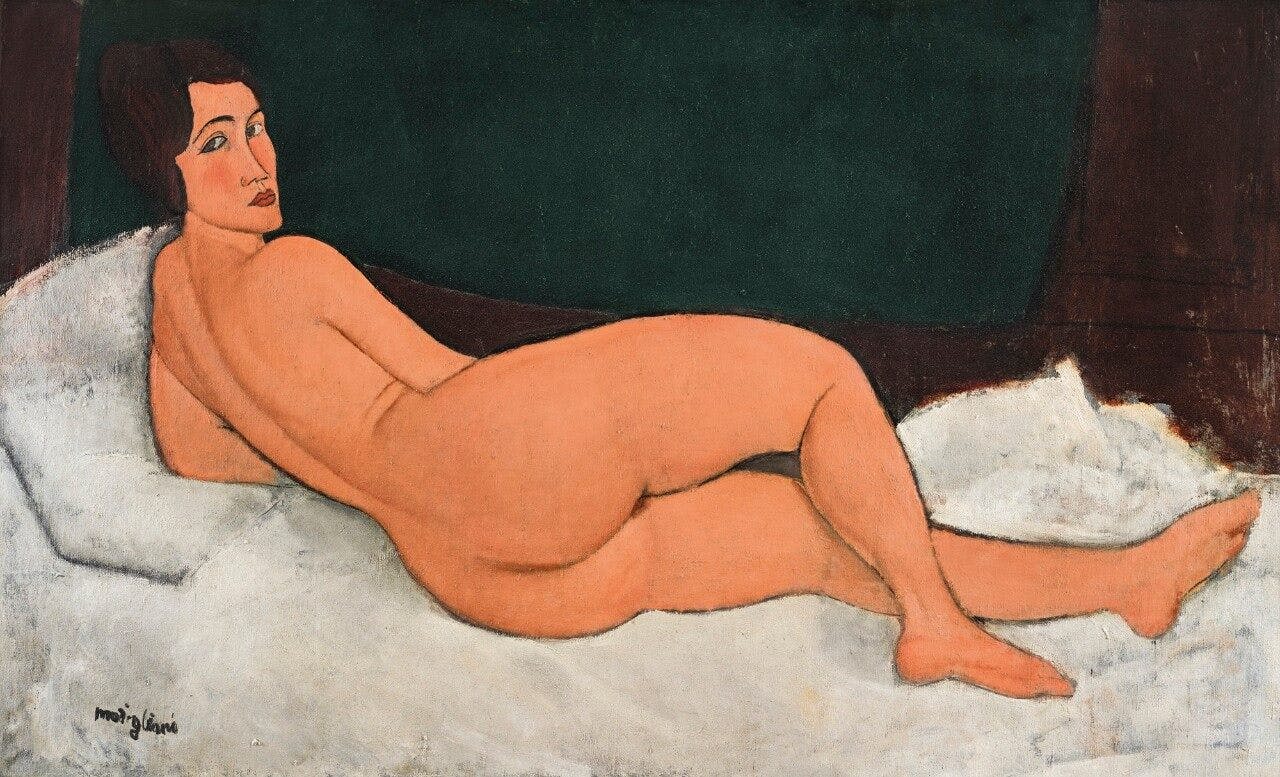 Photo of Amedeo Modigliani's Nu Couché courtesy of Sotheby's
Painted more than a century ago, Nu couché (sur le côté gauche) is a painting that comes from the prized series of nude works created by Amedeo Modigliani between 1916 and 1919. The paintings are so renowned because of the controversy that surrounded them when they first debuted at Berthe Weill's in 1917. What was the controversy that surrounded them? The nudity depicted in the paintings was deemed obscene and inappropriate for public consumption. Crowds would literally stop traffic, which caused the police to shut down the show due to concerns for public safety, Unfortunately Modigliania never achieved success as a living artist. It wasn't until years later that his paintings went on to get the attention they so rightly deserved. In May 2018, Nu couché (sur le côté gauche) sold at Sotheby's for $157 million dollars.
9. Masterpiece, 1962, by Roy Lichtenstein: $165 million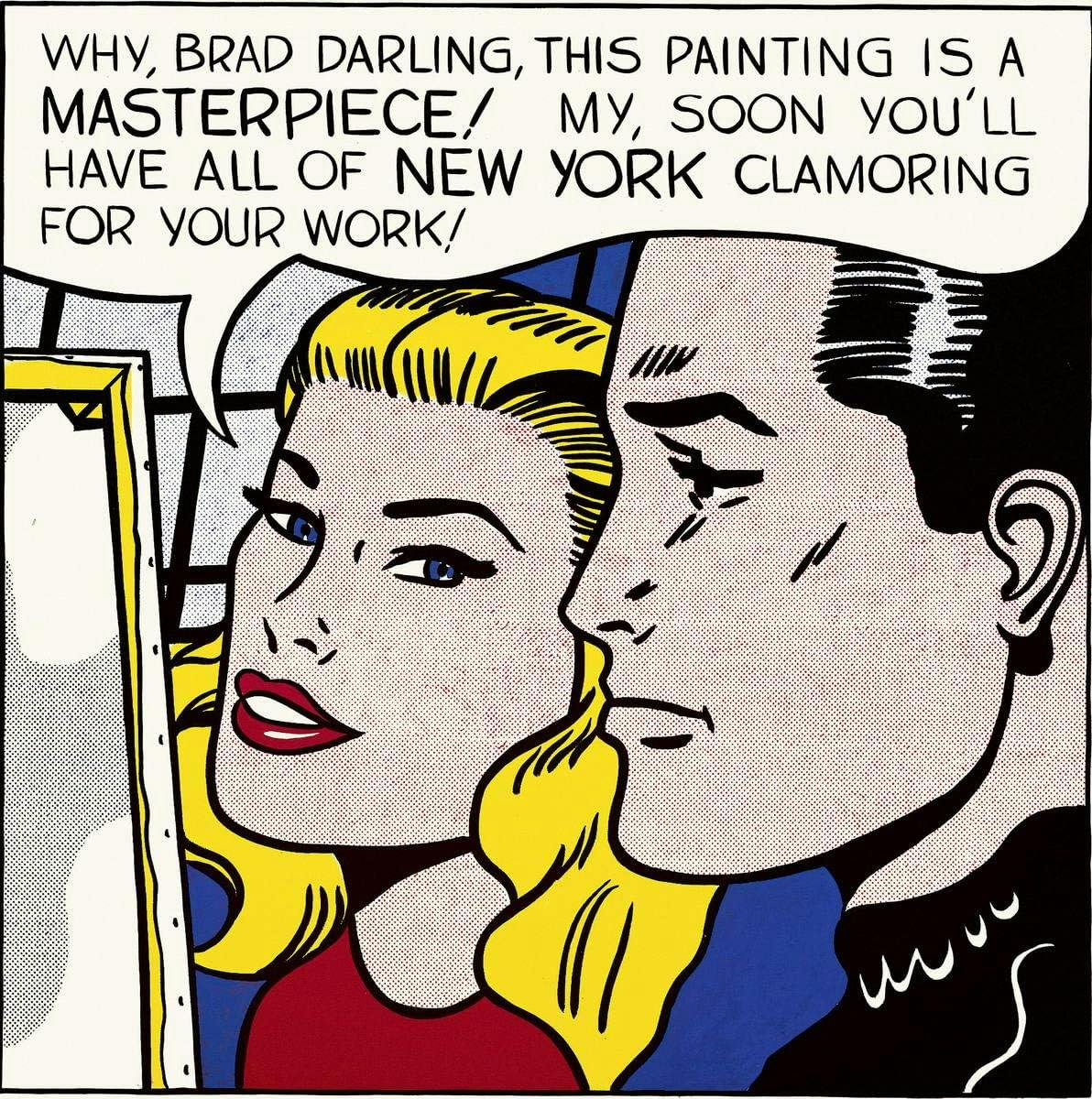 Photo of Roy Lichtenstein's Masterpiece courtesy of Art Market Monitor
Roy Lichtenstein is widely regarded as one of the most important pop artists of the postwar era. His comic book style utilizing Ben-Day dots, speech bubbles, and comic book narratives adorn the walls of major museums and institutions around the world. Masterpiece, which is a 54 x 54 inch painting depicting two characters talking about art is an iconic work by Lichtenstein because it's from his first gallery exhibition at the Ferus Gallery in Los Angeles in 1963. The painting is known as a joke, as it alludes to the aspirational hopes that Roy will overtake the New York art scene, which he later did after showing with Leo Casteli. In 2017, Hedge fund billionaire, Steve Cohen purchased the painting from Agnes Gund for a whopping $165 million dollars. $100 million of which was committed to starting the Art for Justice fund, a nonprofit dedicated to criminal justice reform.
8. Nu Couché, 1918, by Amadeo Modigliani: $170.4 million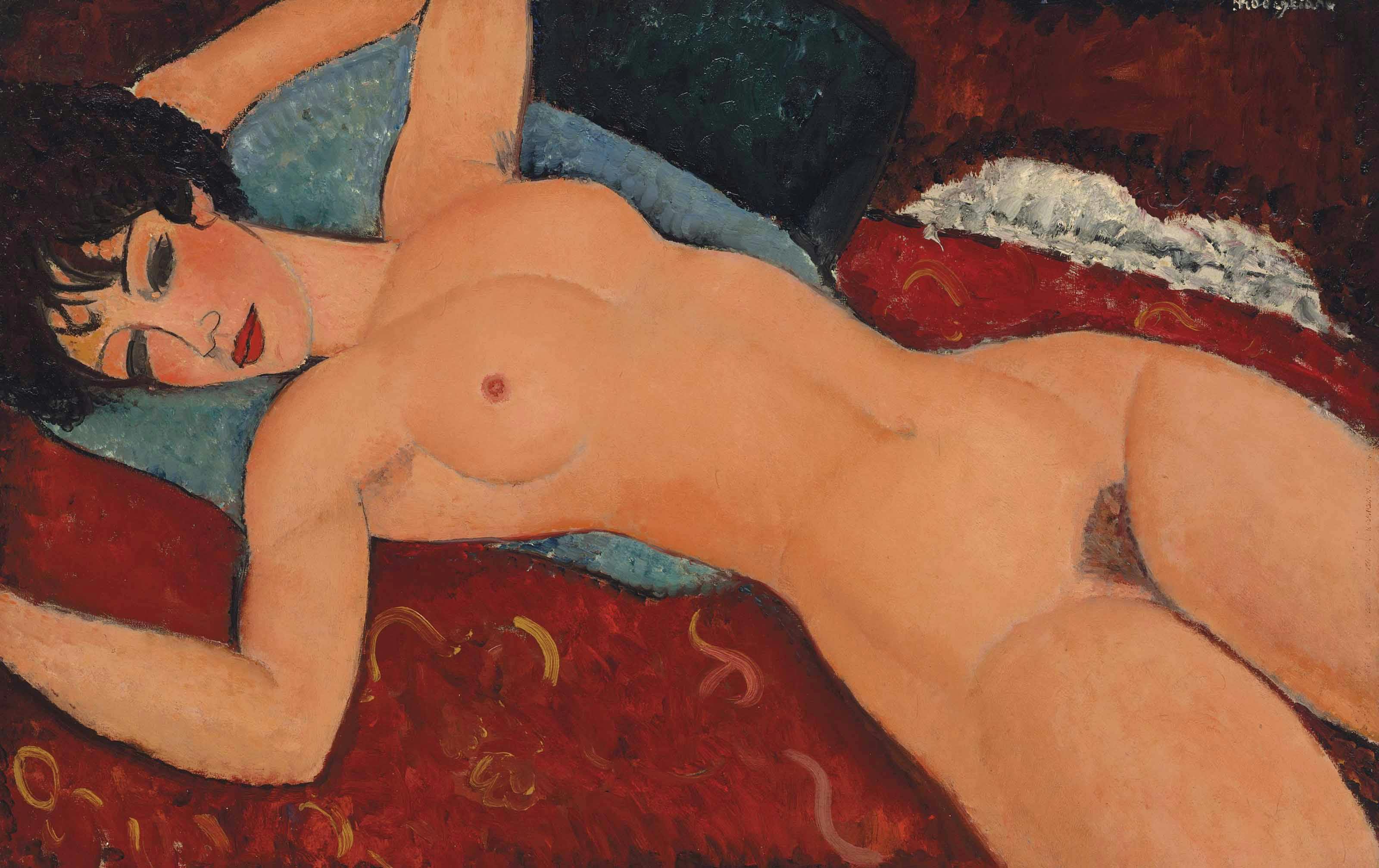 Photo of Amadeo Modigliani's Nu Couché courtesy of Christies
Just like the painting mentioned before, Nu Couché is a painting that comes from the nude series of 22 works that Modigliani painted between 1916 and 1991. One of the most recognizable paintings from that body of work, is Nu Couche, a painting that depicts a beautiful woman lying naked on a red couch. The story behind the piece and the incredible nature of the painting is what pushed Chinese billionaire, Liu Yiquian, to buy the painting in 2018 for $170.4 million at Sothebys. In addition to setting an auction record, Liu Yiquian's acquisition of Nu couché is iconic because it symbolizes the first major acquisition by a Chinese collector; therefore pushing other billionaires to invest in the same manor.
7. No.6 (Violet, Green and Red), 1951, by Mark Rothko: $186 million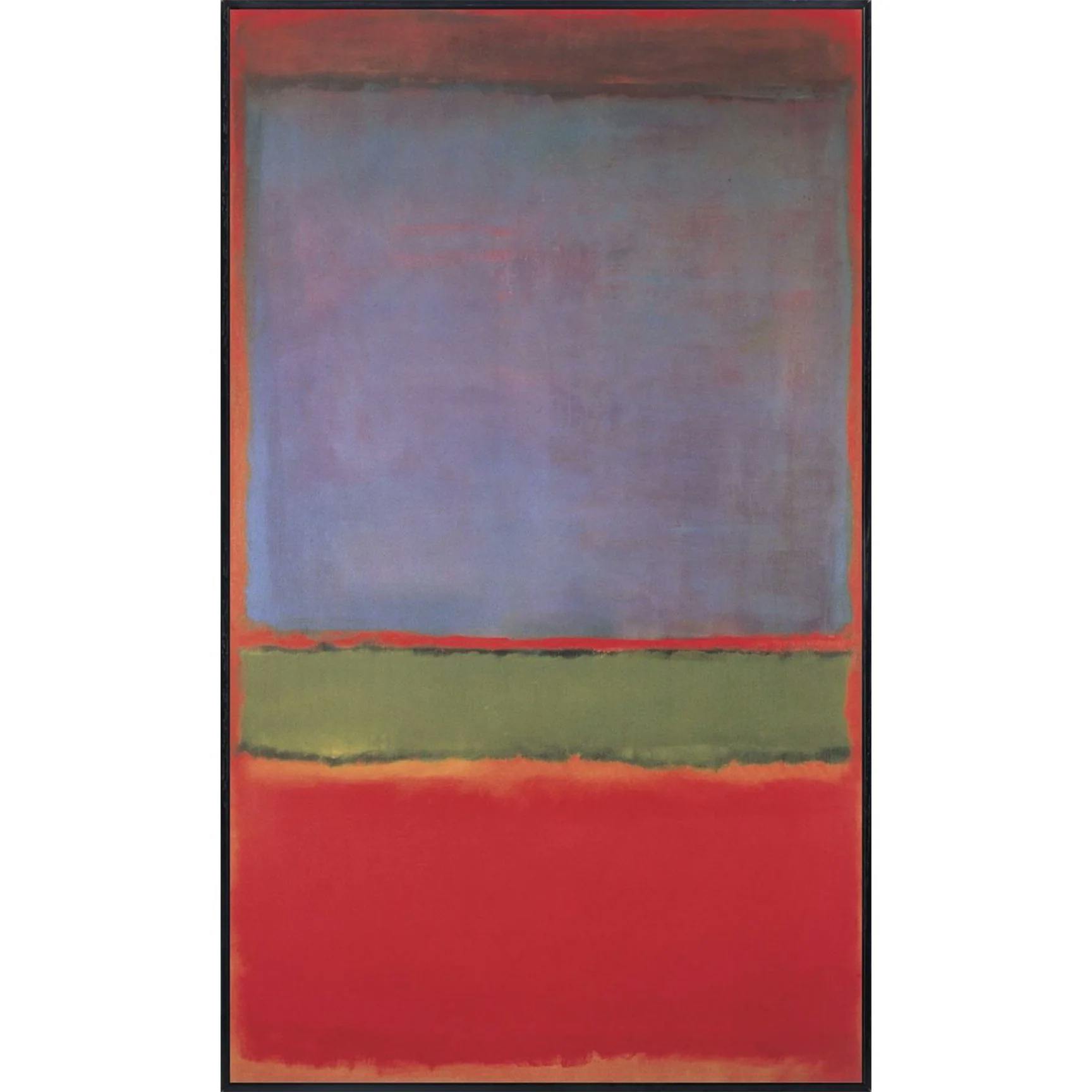 Photo of Mark Rothko's No. 6 courtesy of The Telegraph
No. 6 (Violet, Green and Red) is one of the most iconic paintings from the infamous Bouvier Affair, in which Yves Bouvier, a Swiss art dealer, apparently sold the painting to Dmitry Rybolovlev, a Russian billionaire, for twice the amount he had purchased it for from Christian and Cherise Moueix, proprietors of the prestigious wine-estate, Château Pétrus. Apart from the notorious scam, which is still under litigation, Mark Rothko is a highly coveted abstract expressionist who is widely known for his color field paintings. His work adorns the walls of every major institution including MoMA, Tate Modern, SFMoma, and many others. His impact on abstract expressionism combined with the scarcity of his work has led to auction records that continue to this day.
6. Wasserschlangen II (Water Serpents II), 1907, by Gustave Klimt: $187 million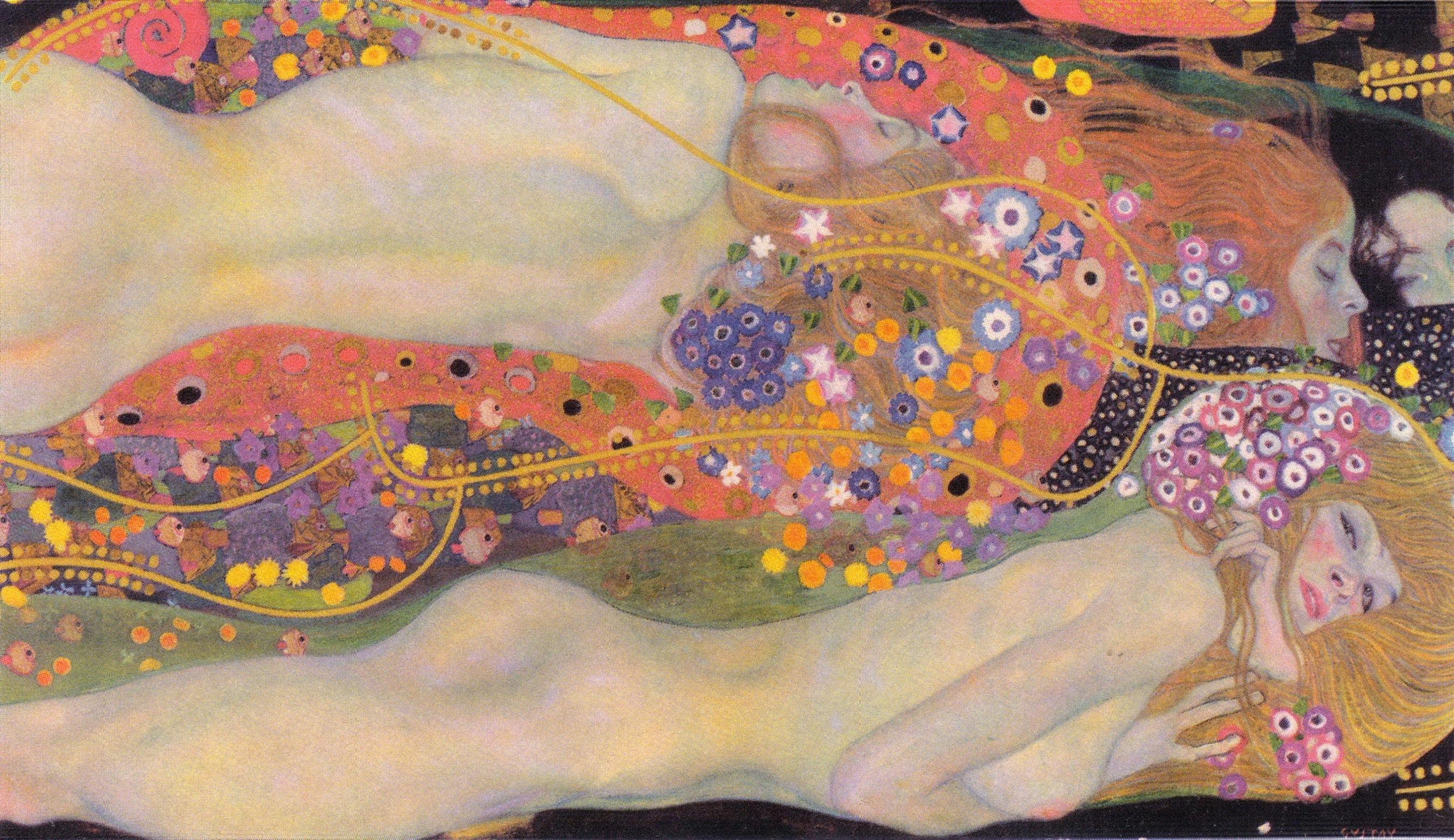 Photo of Gustav Kilmt's Wasserschlangen II courtesy of Wikimedia Commons
Just like the painting mentioned above, Water Serpents II was also a piece involved in the controversial Bouvier affair. Despite the malice involved, it's worth mentioning that the Bouvier affair acted as a catalyst for the huge price tags that have taken the art world by storm. Water Serpents II is the last in a series of works by Gustav Klimt, which include Moving Water (1898), Medicine (1901), Goldfish (1902), and Water Serpents I (1904).
5. Number 17a, 1948, by Jackson Pollock: $200 million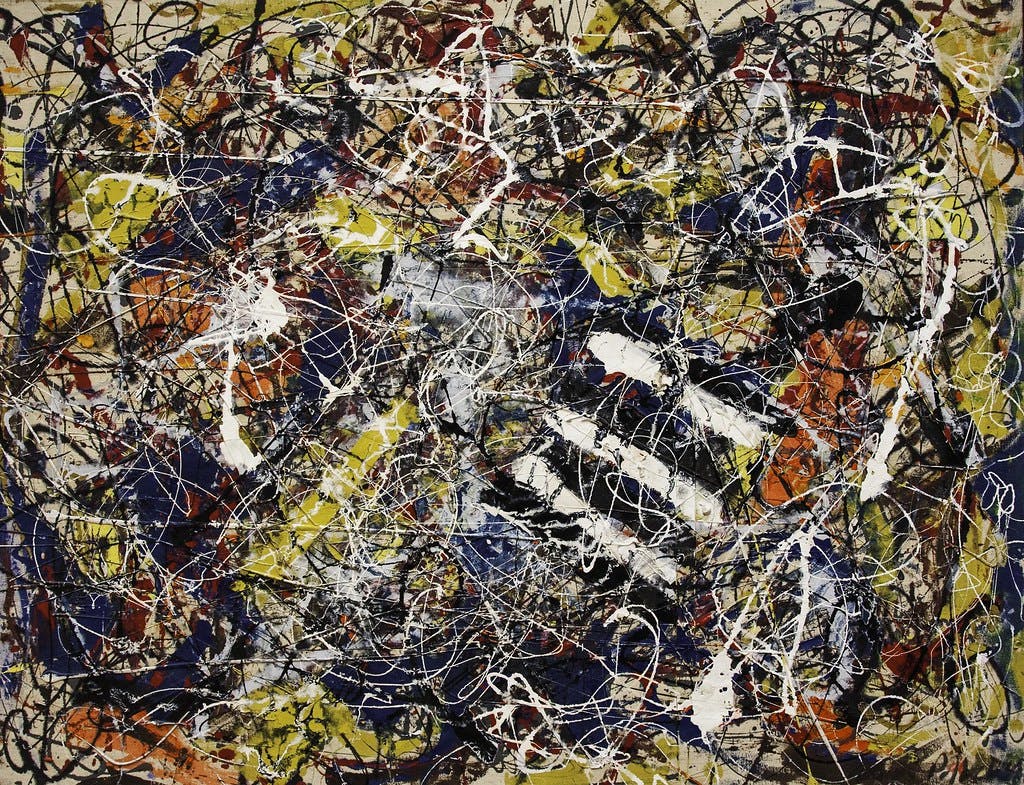 Photo of Jackson Pollocks's Number 17a courtesy of Flickr
Just like Number 5, Number 17a is a prime example of Pollock's work. Along with an incredible set of records detailing provence, 17a is a painting that appeared in LIFE magazine's 1949 feature, 'Is he the greatest living painter in the United States?' While Jackson Pollock surely became one of the greatest painters, I doubt he would have predicted the price tags associated with his work 60 years later. In 2019, 17a was sold to Kenneth Griffin for an estimated $200 million dollars. The painting was a part of a larger deal, where David Geffen included Willem de Kooning's Interchange for a total of $500 million dollars. The largest private sale ever.
4. Nafea Faa Ipoipo (When will you marry?), 1892 by Paul Gaugin: $210 million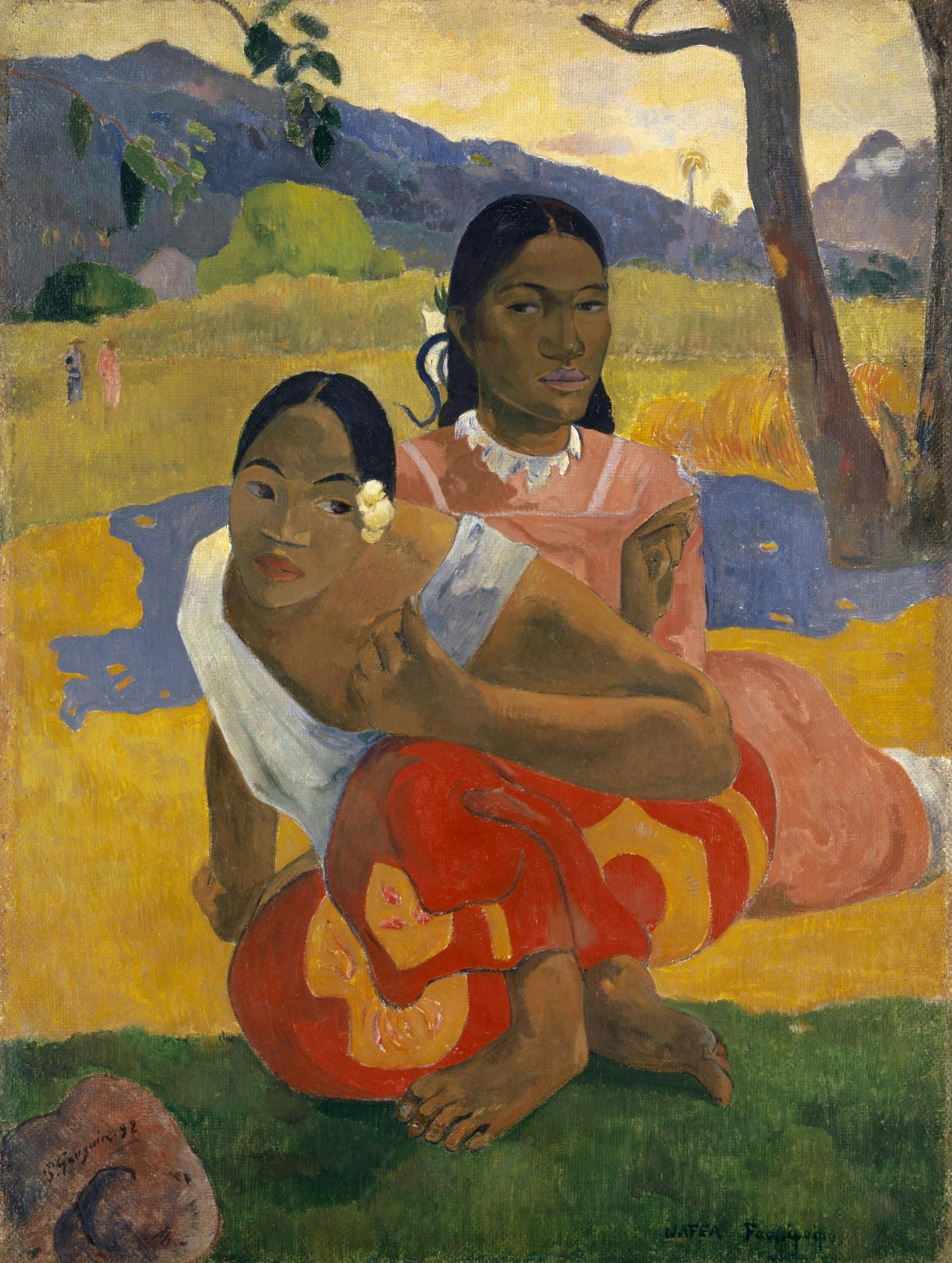 Photo of Paul Gaugin's Nafea Faa Ipoipo courtesy of Wikimedia Commons
Nafea Faa Ipoipo is an oil painting created by renowned Post-Impressionist painter Paul Gauguin. Paul originally created the work after traveling to Tahiti in search of authentic 'primitive' cultures. Unfortunately when he arrived he had discovered that Tahiti was already colonized and that the primitive culture he had desired was whipped out. To make up for this, he continued to paint women in traditional Tahitian garbs, such as those depicted in the painting above. The painting itself had been exhibited at the Kunstmuseum in Basel, Switzerland for nearly a half-century before Sheikha Al-Mayassa bint Hamad Al-Than of Qatar managed to convince the Staechelin's, the family who loaned to the piece to the Kunstmuseum, to sell the painting for $210 million.
3. The Card Players, 1895 by Paul Cézanne: $250 million
Photo of Paul Cézanne's The Card Players courtesy of Vanity Fair
The Card Players is a series of oil paintings created by Post-Impressionist artist Paul Cézanne. There are 5 variations of the painting, four of which are currently housed in museums such as the Courtauld Institute of Art, the Barnes Foundation, the Metropolitan Museum of Art, and the Musée d'Orsay. The last version in private hands was owned by Greek shipping magnate George Embiricos, who in 2011 sold the painting to the Royal Family of Qatar for $250 million. The painting isn't just valuable because it's the last remaining version of The Card Players in private hands, but also because the angular brushstrokes symbolize the start of Paul Cézannes transition from Impressionism to Cubism.
2. Interchange, 1955, by Willem de Kooning: $300 million
Interchange is the painting that accompanied Number 17a in the record sale between . The painting is an important body of work because it represents Willem de Kooning's transition between his Women series of the early 1950's and his color field paintings of the 1960's. Prior to being known as one of the most expensive artworks ever sold, it was also known as the most expensive painting ever sold by a living artist in November 1989 when it was purchased by Shigeki Kameyama of the Mountain Tortoise Gallery for $20.7 million. While Kenneth Griffin has generously loaned his art collection to museums, there is a lot of controversy on his ability to do just that. If a museum had purchased the paintings, then the work would be deemed priceless and out of reach for private collectors. Since Kenneth Griffin still owns the work, there's always the possibility of him selling it to a collector willing to pay the hefty price. This controversy has spurred many debates on the difference between public accession and private collection, which is still being discussed today.
1. Salvator Mundi, 1500, by Leonardo da Vinci: $450.3 million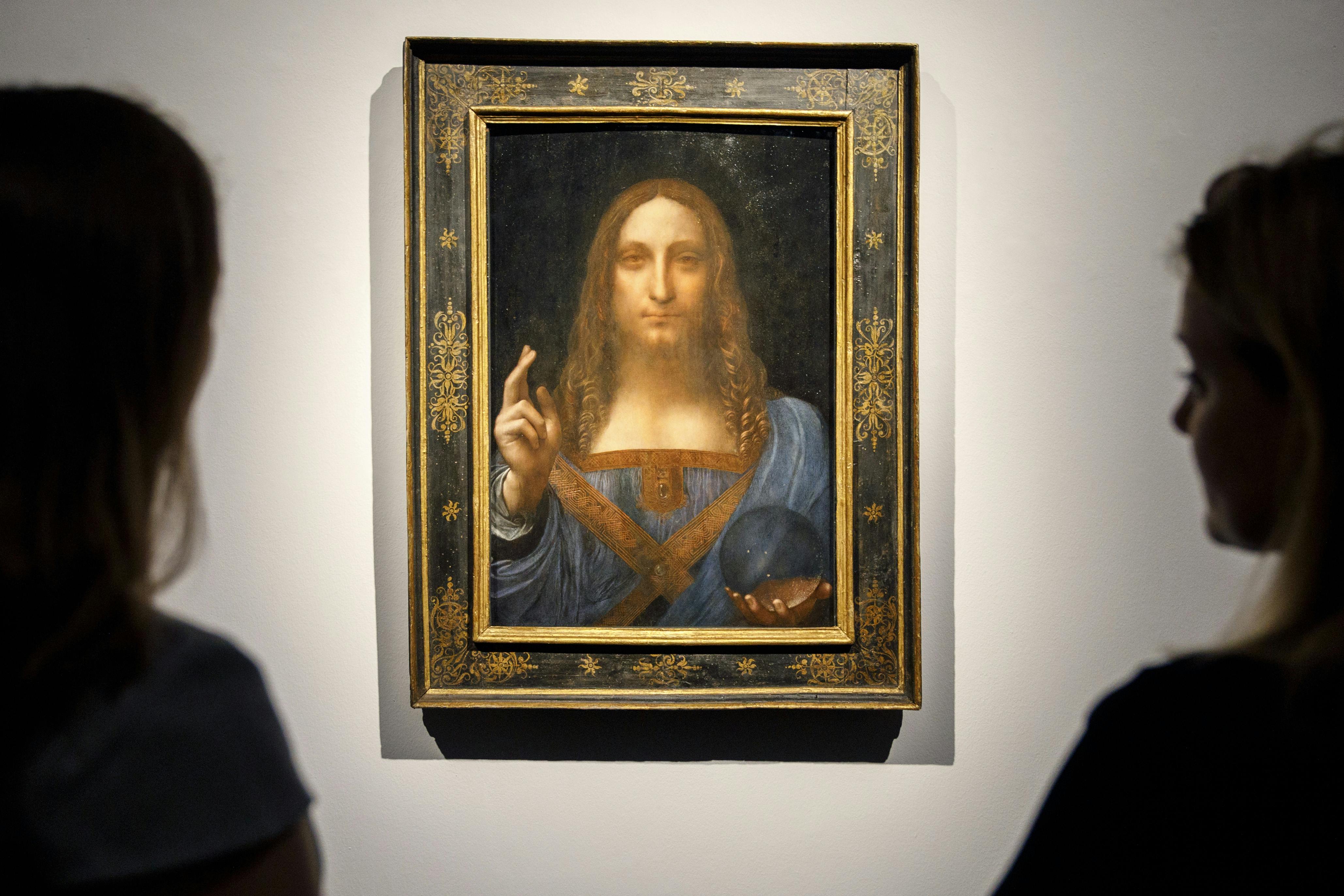 Photo of Leonardo d Vinci's Salvator Mundi courtesy of CNN
What makes this painting so valuable is that it is one of only 20 works created by Leonardo da Vinci, and the only one in a private collection; which is very similar to The Scream previously mentioned above. Not many people realize this, but da Vinci rarely finished his work, which is why finished works like the Mona Lisa are highly sought after by collectors and institutions around the world. The controversy surrounding Salvator Mundi tends to focus on the provenance of the painting and how it came to be. Throughout its history many artists have been attributed to the work. For example, Sir Francis Cook bought the painting as a Bernardino Luini in 1900, only to be sold as a Giovanni Antonio Boltraffio in 1958. It was only after purchasing the work in 2005 for $10,000 that Alexander Parish and Robert Simon were able to validate the work as an authentic Leonardo da Vinci. In 2013 Yves Bouvier bought the painting for $70 million from Sothebys, and then sold it to Dmitry Rybolovlev for $127 million, who then sold it for $450 million at Christies. The painting was purchased by Abu Dhabi's Department of Culture and Tourism for display at the Louvre Abu Dhabi. In September 2018, the exhibition was indefinitely postponed, and a January 2019 news report began to circulate questioning the whereabouts of the painting. To date, we still don't know the exact location of the painting since it hasn't been seen since it left the auction block, but it's rumored to be aboard Prince Mohammad Bin Salman's luxury yacht, the Serene.
We hope that you have enjoyed our list of the top 10 most expensive paintings ever sold. As always, it's important to document your art collection and keep track of provenance, exhibition history, and auction records. If you're looking for a powerful solution that can help you do just that, please sign up for a free account at ArtCollection.io.