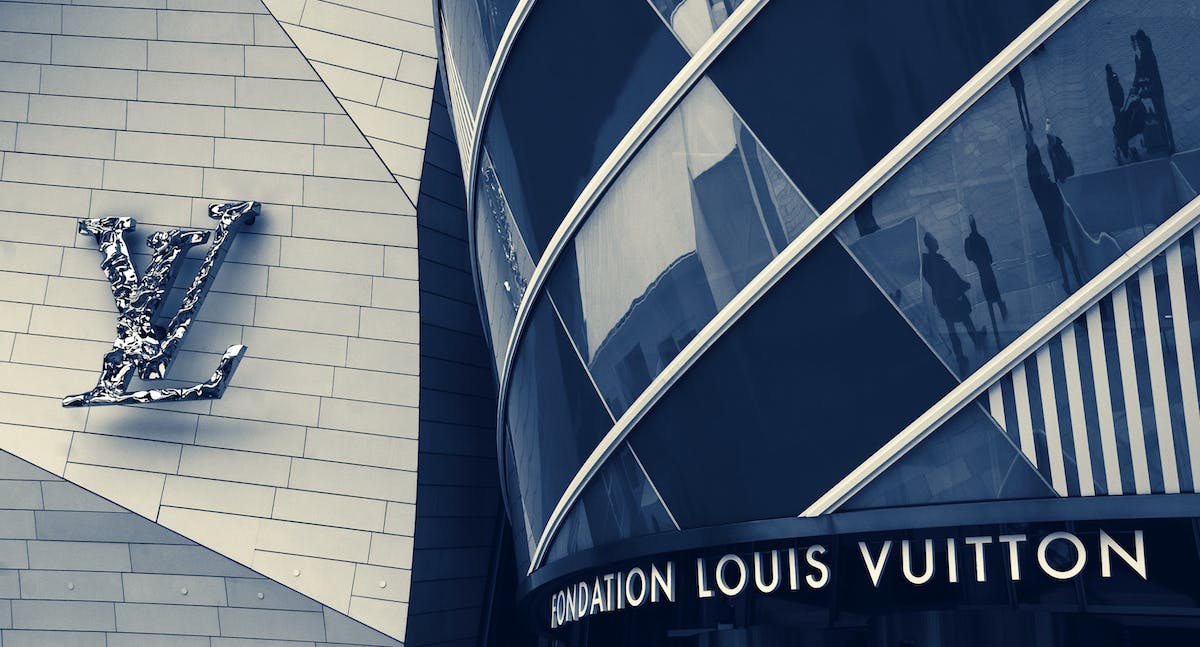 French mega-collector Bernard Arnault is the head of the luxury conglomerate LVMH and is one of the richest men in the world, his fortune is listed just behind Jeff Bezos and Bill Gates. Since 2014, his collection, which largely remains undisclosed, has been housed at the Fondation Louis Vuitton located in Paris´ Bois de Boulogne. This post explores Bernard Arnault´s distinctive approach to art collecting by uncovering his important role in connecting contemporary art with luxury goods and in setting a precedent for privately-owned contemporary art-ventures within France.
As detailed in his profile by the Financial Times, Bernard Arnault was born in Roubaix, an industrial city in the north of France, in 1949. He graduated from the École Polytechnique in Paris, with a degree in engineering, and joined the family construction business in 1971. After a few years, Arnault decided to shift his focus to luxury goods, and, in 1984, lobbied the French government to let him take over a near-bankrupt textile company, Boussac, that at the time owned Christian Dior.
From that moment on, his business strategy has been focused on building an empire composed of individual brands that would be granted creative freedom while being nested under the financial umbrella of a conglomerate. In 1989, he took control of LVMH Moët Hennessy Louis Vuitton SA, after starting to buy shares from the group in 1988. Over the past four decades, Arnault has transformed LVMH from a near-bankrupt French textile company to a global powerhouse with 75 brands such as Louis Vuitton, Dior, Givenchy, Veuve Clicquot, and Dom Pérignon.
His business approach is known for being aggressive, which has granted him the nickname "the wolf in cashmere." Arnault is also a well-known rival of François Pinault, a fellow owner of luxury goods brands and an art collector as well. This rivalry has extended to business, charity, and art collecting practices and could fill the pages of an entire book. More importantly, Arnault is credited with being a visionary that senses the pulse of the global market and sets trends within the luxury sector. For instance, he was the first to target China as a luxury market, which is now one of the largest driving forces in spending on luxury goods.
Since 1991, Arnault has been married to concert pianist Hélène Mercier with whom he has three children. To date, four of his five children (two of them from his previous marriage) play an important part in the family business. Hélène has also taken an important role in the couple's charitable contributions and in their long-lasting interest in the performing arts, with Arnault being an amateur pianist by his own right. For example, in 2019, the family pledged $222 million to help restore Notre Dame Cathedral in Paris following its devastating fire and, in that same year, pledged another $11 million to help fight wildfires in the Amazon.
Arnault: art collector and patron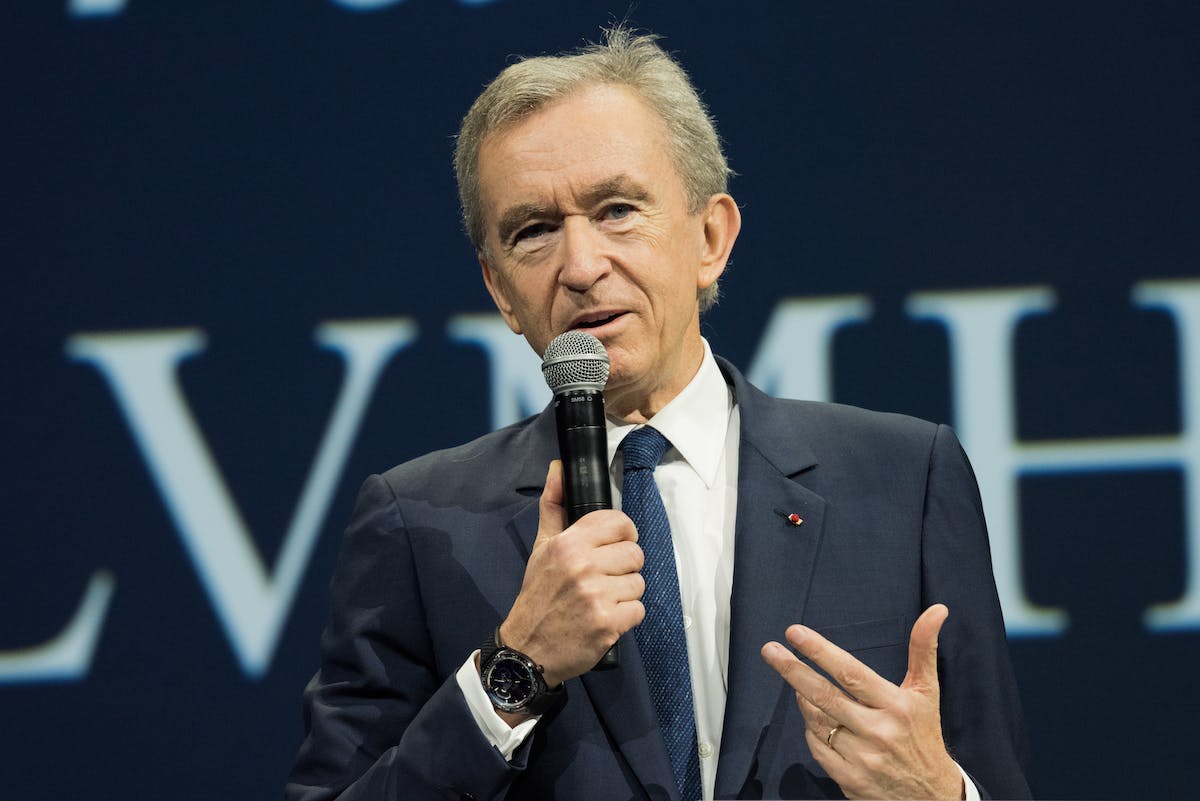 Over the years, Arnault has built an extensive collection of modern and contemporary art and is believed to collect 18th-century decorative art as well. Unsurprisingly, he and his wife Hélène were recently listed as the wealthiest couple in Artnews 2020 Top 200 Collectors.
However, Arnault is well-known for being a fiercely private collector and, before the opening of the Fondation Louis Vuitton in 2014, little was known about his collection. Even as the foundation opened its doors, its inaugural exhibition included only fragments of his collection next to some commissions. Over the years some pieces have become public thanks to temporary exhibitions (currently 330 pieces by 120 artists are displayed on their website), but a comprehensive catalog of the collection has yet to become available to the public. This trait distances Arnault´s collecting practice from other collectors whose acquisitions are openly disclosed. One may infer that this approach is also connected to Arnault's interest in keeping the desire for his luxury products or/and museum alive.
According to ArtNet News, the first artwork that Arnault acquired was a 20th-century depiction of Charing Cross Bridge by Claude Monet. As years went by, Arnault continued to grow his collection for the Fondation Louis Vuitton by focusing on the connection between contemporary artists and the second part of the last century; relying heavily on blue-chip art. The foundation´s collection comprises an evolving body of works that falls into four categories: Contemplative, Pop, Expressionist, Music & Sound. Curator Suzanne Pagé, former Director of the Paris Museum of Modern Art, is the foundation´s creative director and is in charge of all new acquisitions and commissions. Before presenting the artworks to Arnault, she consults with Arnault´s adviser Jean-Paul Claverie.
Some of the artists in the collection are Anish Kapoor, Doug Aitken, Pierre Huyghe, Philippe Parreno, Christopher Wool, Rosemarie Trockel, Ellsworth Kelly, Ugo Rondinone, Richard Serra, Maurizio Cattelan, Cao-Fei, Ryan Trecartin, and Cyprien Gaillard, reported The Art Newspaper. Additionally, the collection includes important holdings of artists such as Jean-Michel Basquiat and Gerhard Richter.
Next to his collecting practice, Arnault has also been an important sponsor of blockbuster temporary art shows. As of 2010, the family had supported more than 20 art exhibitions worldwide, detailed France Today, and since the opening of the Fondation Louis Vuitton in 2014, his support has been mainly directed towards the exhibitions hosted at their venue or that travel abroad. This approach is credited, in part, due to Jean-Paul Claverie, Arnault´s long-time adviser who, as Claverie declared in an interview, in 1991 persuaded Arnault to set up a strategy of global communication for LVMH based on large-scale artistic and cultural projects that included a foundation. It is important to note that the extent of LVMH´s philanthropic reach also includes education and healthcare efforts.
Arnault´s support for the arts has been recognized over the years. He was the first non-American collector to receive the David Rockefeller prize at MoMa in New York (2015). According to WWD, Arnault remarked shortly after receiving the prize: "Because French philanthropy is coming from the U.S. I may have been one of the first to really do it on a certain scale in Europe. I imagine it's one of the reasons that I'm getting the prize today." Likewise, he has been recognized within France for his support of the arts and has been granted the honorary titles of Grand Officier de la Légion d'Honneur et Commandeur des Arts et des Lettres.
Arnault has also played an intermittent role in the auction world by acquiring Phillips in 1999 and merging it with Simon de Pury and Daniella Luxembourg, two renowned dealers. The arrangement lasted until 2002 when Arnault decided to sell his stake in the company. Arnault then got back into the auction world, in 2015, when LVMH bought a stake in the now-defunct German online auction site Auctionata.
Arnault: at the intersection of high fashion and contemporary art
Aside from being an art collector and patron, Arnault has frequently turned to artists to design new products for some of his high-end brands and, as Artsyexplained, has personally-set up collaborations with contemporary artists such as Richard Prince and Takashi Murakami to make handbags for Louis Vuitton; and Jeff Koons to create special-edition packaging for Dom Pérignon. In Nicholas Foulkes words, "He (Arnault) has blurred, if not erased, the line between art and commerce. Warhol would have loved what he has done with Louis Vuitton." While Louis Vuitton´s connection to contemporary art has taken new levels under Arnault´s leadership, the brand´s proximity to art and creativity has been around since the creation of the company and is a core feature that the brand has repeatedly highlighted as part of its communication and marketing strategy. For example, last year, the exhibition Louis Vuitton X celebrated the 160-year long history of the company's creative exchanges.
Within its recent history, from 1997 to 2014, Louis Vuitton's involvement in contemporary art was closely related to the hiring of Marc Jacobs who served as Louis Vuitton's creative director and is himself an art collector. After Jacobs´ departure, other projects have been set in motion and have taken a new direction with the hiring, in 2018, of Virgil Abloh as the brand´s artistic director of men's wear, reported by The New York Times. Abloh trained as an architect and was Kanye West's right-hand man before becoming a fashion designer for Louis Vuitton and creating his own line, Off-White. He is also a D.J; a visual imagineer for other firms; and a collaborator with Nike, Ikea, the Red Cross, and many others. As proof of Abloh´s influence and crossover with the art world, in 2018, Abloh and Takashi Murakami (a frequent collaborator of Louis Vuitton) put together America Too, a joint exhibition including layered paintings, large-scale sculptures, and the merging of their respective trademarks and brand names at no less than Gagosian Gallery. Likewise, in 2019, Virgil was the subject of the exhibition Virgil Abloh: Figures of Speech, a mid-career survey first shown at Chicago's Museum of Contemporary Art.
Regarding Louis Vuitton's womenswear, in 2019 and 2020, artists such as Sam Falls, Urs Fischer, Alex Israel, Jonas Wood, Beatriz Milhhazes, Josh Smith, Henry Taylor, and Liu Wei were invited to reinterpret the Capucines bag, first launched in 2013, and named after Rue des Capucines, the Parisian street on which Louis Vuitton opened his first store in 1854.
Additionally, within some of Louis Vuitton´s stores, there are contemporary art exhibition spaces. For example, The Espace Culturel Paris opened in 2006 on the seventh floor of the Maison Louis Vuitton; and other exhibition spaces have since been launched in Tokyo, London, Munich, and Singapore, detailed The Art Newspaper.
Fondation Louis Vuitton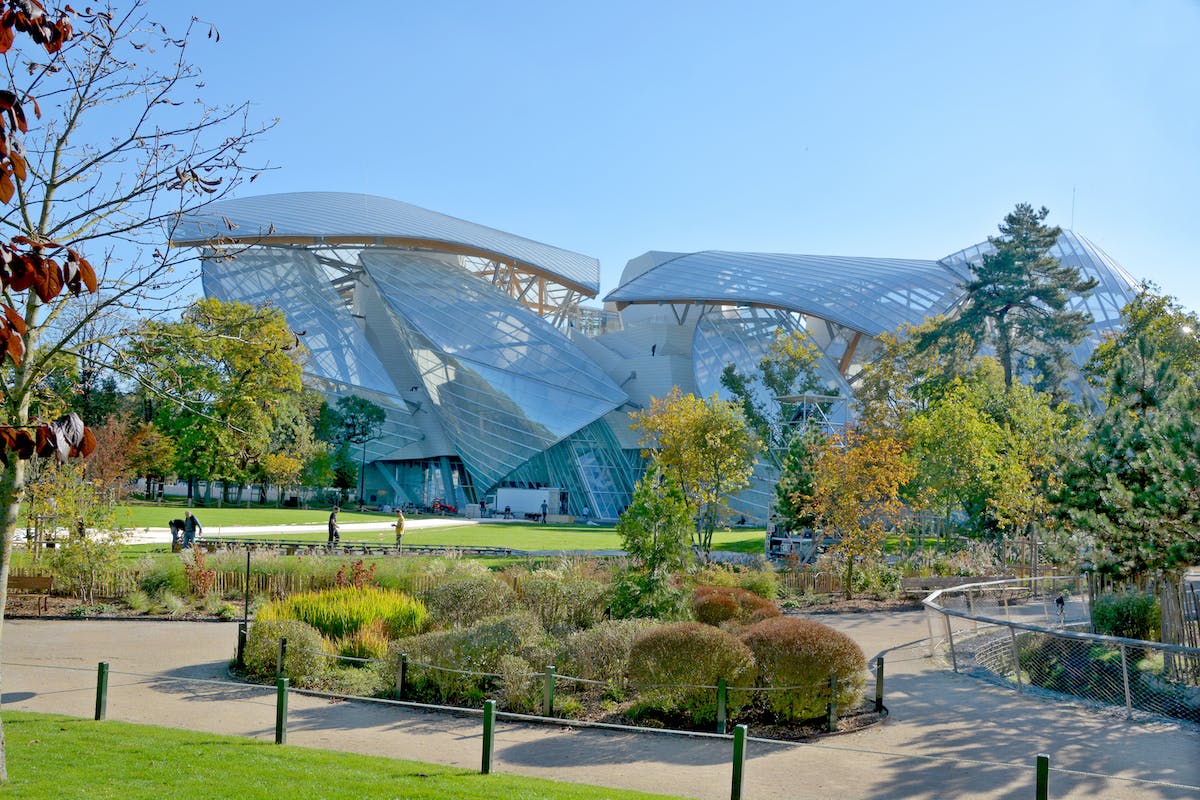 Fondation Louis Vuitton Figures
13,500 m2: surface area of the 12 glass sails
19,000 sheets of Ductal (white fibre-reinforced concrete)
7,000 m2: total usable floor space
3,850 m2: museum space
11 exhibition galleries
350 (seats) - 1,000 (standing): seats in the auditorium
As mentioned above, in 2014, the Fondation Louis Vuitton opened its doors in Paris's Bois de Boulogne, after a 10-year excruciating process that involved frequent negotiations with authorities to guarantee city permits, and numerous design challenges. One of the foundation's main goals was to make culture (French culture in particular) radiant forces in the world by creating totally new and inventive exhibitions, in the same vein as previous LVMH-sponsored events.
The building was designed by world-class architect Frank Gehry. According to ArchDaily, the design responds to the setting of the Jardin d'Acclimatation, evoking the tradition of 19th-century glass garden buildings, the role of the Jardin in cultural memory (especially the work of Marcel Proust), and the desire to create a contemporary art museum that will be attractive and welcoming to the children and families. Likewise, Gehry described the building as a mixture of three elements already commonly used by viewers to describe it: a ship, a cloud, and an iceberg dressed as a cloud, reported Artnet News.
Aside from being an architectural landmark, this project sets a precedent for the future of privately-funded art museums in Paris. According to Carol Vogel from The New York Times, "in a city where places to see art are, for the most part, government-funded, the foundation is a rare example for Paris of a more typically American-style institution, similar to private museums for contemporary art opened by the Brant Foundation in Greenwich, Conn.; the Broad Foundation in Los Angeles; or the Rubell Family Collection in Miami."
Regarding its programming, every year the Foundation puts together two temporary exhibitions, one of modern art, one of contemporary art. Before being opened as a museum, the space was used as the venue for Louis Vuitton´s Spring 2015 Fashion Show probing once again the intersection between luxury, high-fashion, and contemporary art.
The foundation's inaugural exhibition included a mixed bag of canvases by Gerhard Richter and Ellsworth Kelly, and sculptures by Thomas Schütte and Isa Genzken, Christian Boltanski, and Pierre Huyghe. Additionally, the foundation frequently commissions artworks by contemporary artists. For example, Olafur Eliasson erected a forest of mirrored yellow columns, and Adrián Cruz Rojas created a "living sculpture" made from compacted layers of organic and inorganic materials sourced from around the world that will transform over time.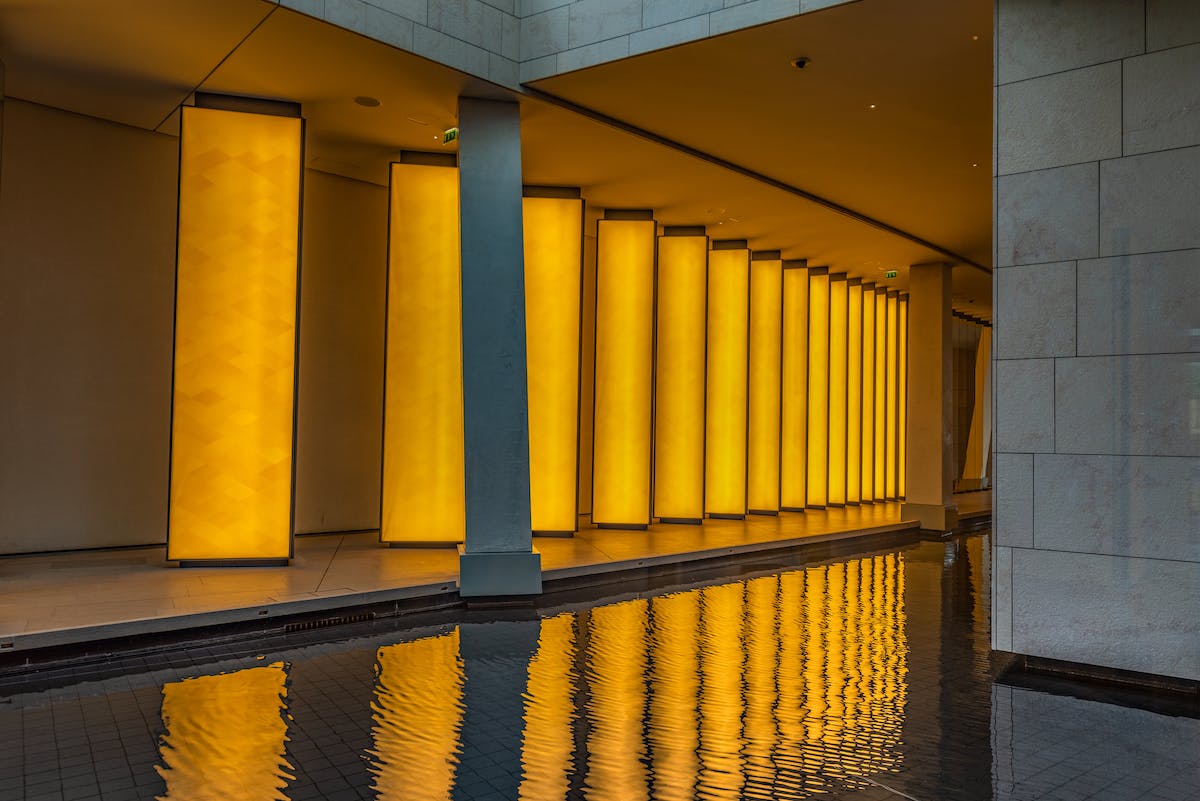 As years have gone by, the foundation has housed blockbuster temporary exhibitions displaying lent works from the most important art museums and art collections around the world. This makes Fondation Louis Vuitton a popular Parisian destination (entrance tickets priced at 14 euros). For instance, in 2018, the Museum of Modern Art in New York lent more than 200 works (including pieces by Paul Cézanne, Marcel Duchamp, and Yvonne Rainer) for an exhibition that attracted over 750,000 visitors. That same year the foundation also staged retrospectives of Jean-Michel Basquiat and Egon Schiele. Additionally, Sergei Shchukin's modernist masterpieces displayed at the Fondation attracted 1.2m visitors. At the same time, providing Arnault's wife is a pianist, the space was conceived as a place where performing arts could be displayed in a 350-seat auditorium, reported The New York Times. Since 2018, the Foundation has hosted Open Space, a special program dedicated to contemporary artistic expressions.
Importantly, in exchange for permission to build in a public park, the foundation was granted a 55-year lease on the land. In 2062, the building will be handed over to the city, but the art collection will remain the property of the foundation, detailed Apollo Magazine. This agreement entails that the building will be owned by the city but does not guarantee all the funding required to maintain this popular museum within Paris. Probably, in the next few years, new agreements will be made to extend the operating life of this privately-owned museum.
We will have to wait and see as more artworks from Arnault´s collection emerge from his private collection to the museum walls. However, it seems that the programming of the museum seeks to keep a balance between exploring international modern and contemporary art through blockbuster temporary exhibitions and showcasing part of the holdings of LVMH.